Tape jockeying at the cassette party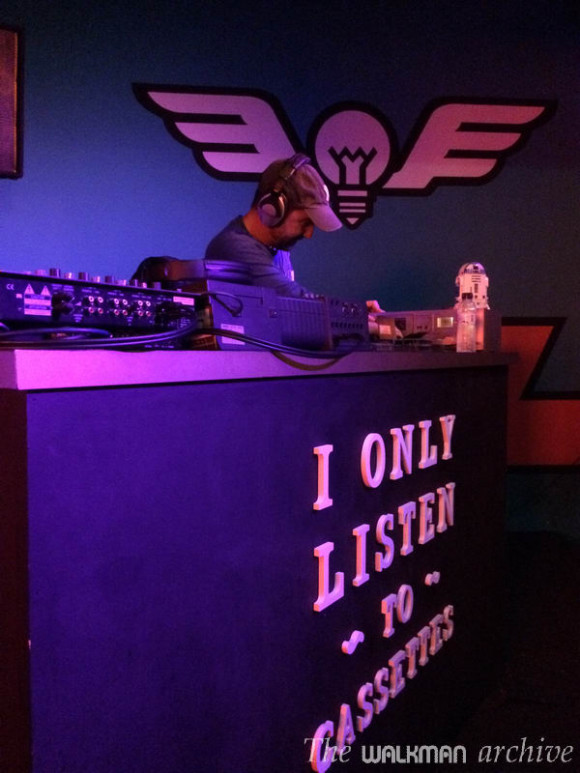 This past weekend has been definitely a date to put a mark in the calendar. I don't remember to have such a great time recently… I was CJ'ing myself for the first time in my life!
Yes, I'm CJ Walkman Archive (CJ for Cassette Jockey) since then

The party had place in the new bar of "La lata de bombillas" (the bulb can, once translated), a bigger place than the previous one.
At first, it would be driven by my friend Lorenzo, TJ Autoreverse, but he insisted that I join the party too so we both drive it. And finally I accepted.
That friday I was a bit nervous -I confess- because I've never done such thing and I also didn't know how to use his 4 track recording board, a Fostex with cassette. We arrived to the pub just 45 minutes before the start and all the set-up was still to be made, and I still have to dinner, so you may guess…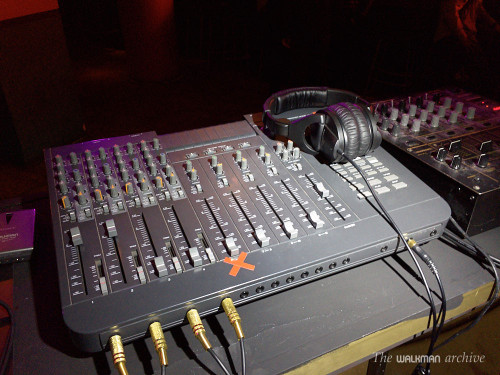 Lorenzo explained me briefly how to mix with his board and I did some practice. In the beginning it wasn't good but I quickly got used to it.
He made himself two T-shirt for us with a logo by Panasonic that served as a basis for the forum's name, and its web address:
The party started with very few people there and I put pop songs with not fast but not slow rhythm (I think you get the idea), to slowly go faster whenever more people join it. I spent around 40 minutes that way until I switched to dance pop songs (all 80s songs).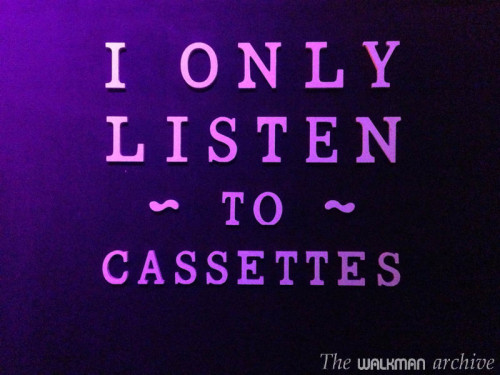 I prepared three play lists on Spotify to help me arrange the songs. One for 'pop mid rhythm' a second one for 'pop dancing rhythm' and another one for 'rock'. After I got the full list, I divided each in two lists separately, one containing the even songs and the other with the odd ones, and then recorded each list in a cassette. That way I could play the 1st song in tape one (odd) and then mix (crossfade) easily to the 1st song in tape two (even), then to the 2nd song in tape one and then to the 2nd in tape two, and so on…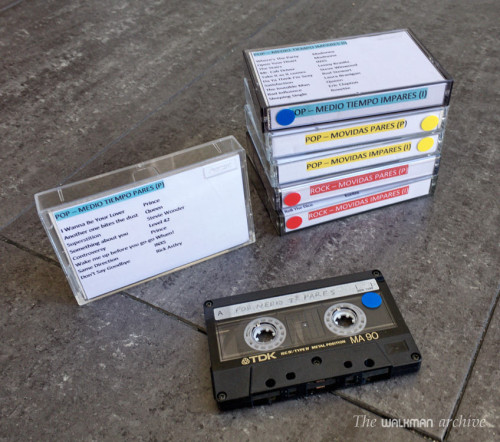 I labeled the 'slow' ones (mid rhythm) as blue, the 'pop dancing' in yellow and 'rock' in red, so I could identify easily each one in the table. I think that was a wise movement as I could realize in the party, with all the lights changing, the loud music and all the people coming in to watch the walkmans and the process, that it would be very easy to make mistakes.
I used TDK MA metal tapes for all them except a SONY Metal XR and another two Maxell XL-II as a reserve (not pictured here), and I recorded all them in my new Pioneer CT-93, using Spotify Premium as source, with my ARCAM irDAC. I'd prefer to use vinyl but I simply hadn't enough time to prepare all them. What I did, though, is to 'remaster' every song to match the same EQ so they don't sound dark, bright or tiny as some did. I used my Technics EQ and sometimes my BBE too.
That was starting to go faster!
I was playing for 90 minutes until Lorenzo came and I took a rest. He was then CJ'ing for an hour (it was 12 in the night). People from the national TV channel (TVE, Television Española) called him and asked to come and record him in the party, and so they did: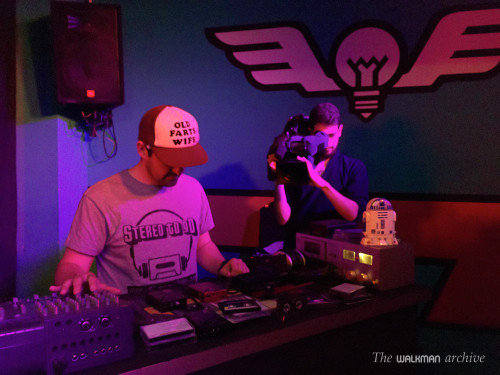 And then I came back to the board for another hour and a half. The pub was full of people and many were dancing. Among all that, we prepared many videos and images from walkman commercials to display all them in a loop in two TV screens just above the bar, so people can watch them while waiting for a drink. We used lots of images as well as my own photos and even a video by my friend Mat from Techmoan.
So, in the end it was a very nice and enjoyable party that I'd like to repeat in the near future. I loved it!
See you there the next time!