New S2G logo and header

As you may have read here, me and 3 friends took the wheel of Stereo2go forums when in late 2016 Paul, the original owner, decided to shut it down (or let it die if you prefer).
I felt I could not leave it dying so I encouraged my friends to do that. In a first stage we just keep paying the bills of that bad and ugly platform: Hoop.la. We just wanted to keep it alive, and that's what we did for some months. Once we paid several monthly bills we started to think that it was a lot of money thrown out, because it was very expensive and, in the end, we had nothing: no database, no image, no file, nothing!
So I started thinking about migrating it to my own server that would also use a more user-friendly and customizable software. Then I finally managed to move it to the current server, and to show that a big change had occurred on the platform, I decided to create a new header. I was only working on it for a couple of hours, trying to do something more modern, but I wasn't 100% satisfied either:

At first it seems that people accepted it but after a while some complaints began to appear, pointing out that a better logo had to be developed, and that it included some  boombox golden time, not the Panasonic DS-30 that I had used.
The problem is that I couldn't think of any good ideas about finding some graphics playing with the letters. One possible idea is to use the original logo, but I wasn't convinced. I was looking for something more elaborate.
Finally, after months of thinking about it, one day I came up with something: using the band headphones on my head as a "2″. After several tests, I arrived at this design:

That I finally evolved and debugged until I left it like that: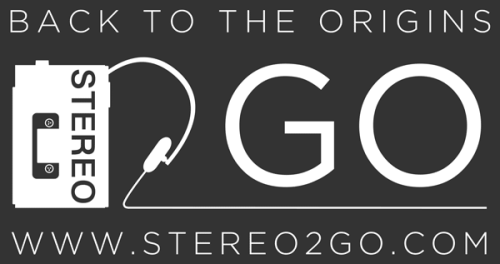 This was the only way I could think of to integrate the '2′ in a modern, elegant and graphic logo. Once the logo had been created, all that remained was to add more elements to create the header of the website: boomboxes, cassettes, minidisc, discman…
Some suggested to remove the top text "Back to the origins", and I did.
It was when I started adding a boombox (actually the Lasonic TRC931) that I realized I could use the particular design of the speaker protection grids for the logo itself, integrating them as the "G" and the "O". And then I came up with the last evolution of the logo, which is the definitive one: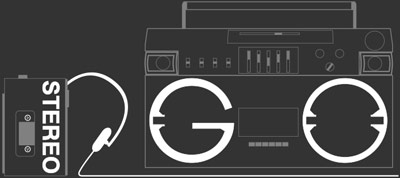 Finally, I added more elements to make the logo as a whole, as it has finally become:

I hope you like it, and if you haven't yet decided to register them and participate in the forum, I encourage you to do so.
This one may not be the last one, as someone suggested that it's too dark for a white page, and I'm thinking in doing a white one, maybe with some colour added. Oh, and a 3.5 mm jack at the end of the cable as someone suggested