Upcoming walkman & cassette party at Barcelona!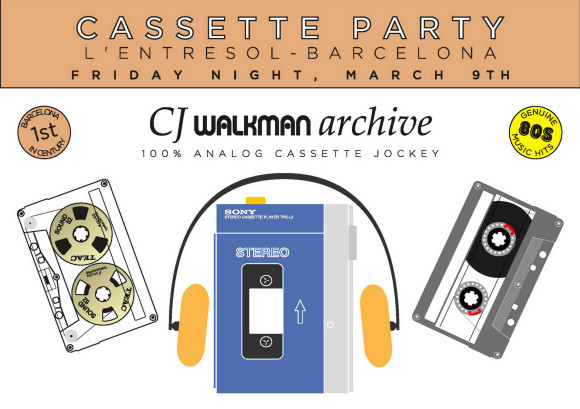 Yes, dear friends, in 9th of march I'll be CJ'ing (cassette jockeying) at L'Entresol pub at Barcelona.

The pub is not big but it is cool. I'll be playing good music mainly from the 80s, but also from the 70s and the 90s: pop-rock, disco, rock, hard rock and a few other styles at night, from 22h to 3 am.

Most of the songs will be recorded from vinyl, so it will be 100% analog party! I'm actually recording TDK MA tapes from my Technics SL1200 LTD with an AT150Sa and Kora 3T preamp, to some of my decks: Pioneer CT-93, AIWA XK-9000, Nakamichi Dragon…
What would be really special is that I'll be CJ'ing with walkmans and not with decks. Yes, I'll be using my DD30, DD33, BoodoKhan, DC2 and D6C. Also I'll take a TPS-L2, AIWA PX101 and a few others.

I'm actually preparing all the cassettes and I've been today doing a sound test and everything went fine. The party will be at L'Entresol, a well known and highly regarded pub in Gracia area of Barcelona. More info about it here. See it in Google Maps.
So if you live somewhat near Barcelona, you're invited to join the party here!