Will Toshiba's new Hi-res cassette player really sound any good?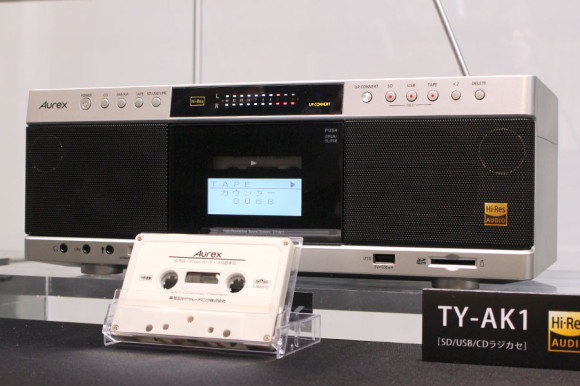 Toshiba has just announced that it is launching a new radio cassette that promises high res sound, the Aurex TY-AK 1 and plays it, radio, cassette and also from USB and SD card.
Aurex is the hi-fi brand that Toshiba has been using for many years, similar to Panasonic with Technics.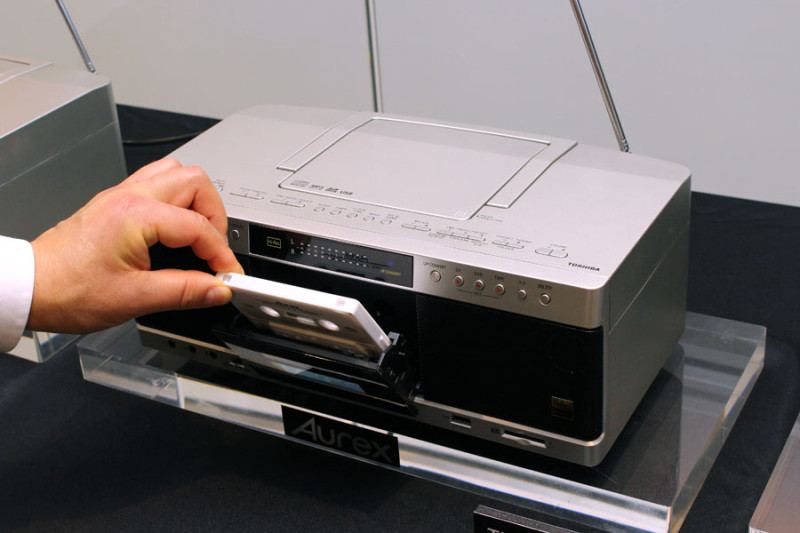 The player contains a "mechanism" that claims to improve "the quality of music data on a cassette tape". I was very impressed by this device because at first glance it gives me the feeling that it's all smoke. A simple cassette radio that promises High Res? And there's no mention of the quality of its transport mechanism? Or his head?
The only thing that is said is that it will be able to produce Hi-Res sound because it will "improve", which makes me think that the cassette mechanism will actually be normal (probably very normal), and it will actually be some kind of subsequent circuit that will do some kind of sound processing so that it simply meets the hi-res standard specifications, which for example indicate that it has to reach 40 kHz (which, on the other hand, no human reaches, not even remotely!).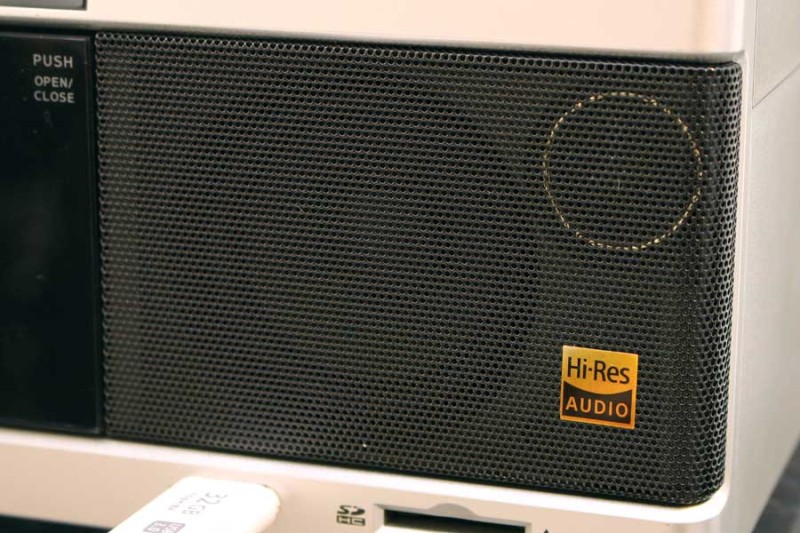 According to the japanese news:
The type of cassette tape that can be played corresponds to all of normal, chrome, and metal. Equipped with a switch to switch between "normal position" and "high position" on the front of the main unit. In addition to playing back cassette tapes, you can digitize the cassette sound source by MP3 recording to the SD memory card or USB memory, or convert the sound source of the CD / SD memory card / USB memory to a cassette and convert it to analog form.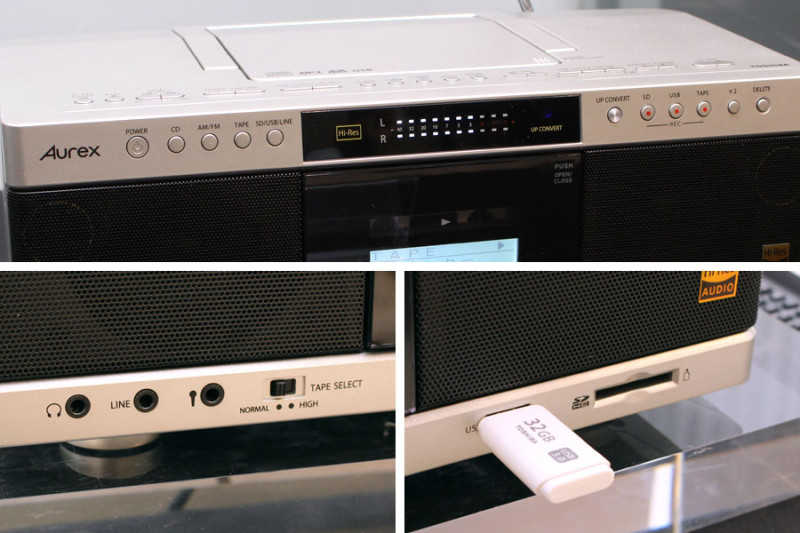 And this is what it does:
This machine has been developed with the concept of "various sound sources to high quality sound quality". The point that becomes the point is a new function to up-convert the sound source of CD and cassette tape equivalent to high res. By using this function, you can up-convert the CD sound source to 88.2 kHz / 24 bit equivalent, cassette tape and radio sound source up to 96 kHz / 24 bit equivalent and play it.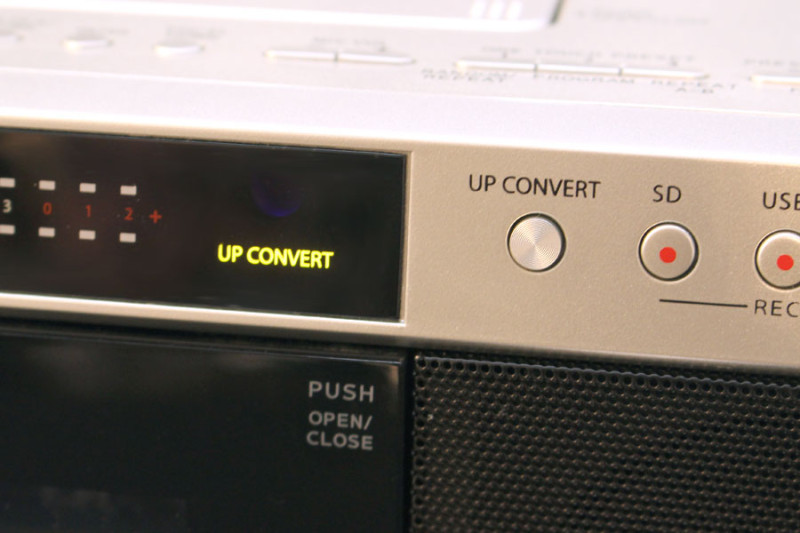 So to my understanding it's a basic cassette player with a "magical" button to upconvert anything to 96 kHz/24 bit so it magically and greatly improves the sound quality to the infinity and beyond… (you get the irony?) C'mon…
These are the specs (thanks Simon to publish them):
Features
Easily reproduce high-resolution sound source files (FLAC, WAV) up to 192 kHz / 24 bits, saved on SD card and USB memory. Corresponds to 192 kHz / 24 bit sound source with about 6.5 times information volume of music CD.
With high sound quality close to the studio, you can express vivid and dynamic feeling different from the past.
"Up convert function" that expands various sound sources such as cassette tape, CD, radio etc. to the sound quality equivalent to high res. By supplementing the lost data in the process of compressing a compressed sound source (non-high resolution sound source) such as CD and MP3, it has a function to convert the sound quality into a frequency band equivalent to a high resolution sound source and a high resolution sound source.
This makes it possible to convert not only CD, MP3, and radio but also the sound source to the cassette tape, not only the current sound source, but also the music heard in the past will be resurrected with the latest sound quality.
Corresponds to high position tape (TYPE II) playback.  It corresponds also to high-position tape (TYPE II) playback in addition to the normal tape so far by tape play switching.
* High position tape corresponds to playback only.
Equipped with a 40 W speaker system that supports high resolution playback Equippedwith soft dome tweeter capable of reproducing high frequencies above 40 kHz and bass reflex type speaker system with high performance Woofer. Combined with an optimally tuned high power digital amplifier, it delicately and vividly describes the attraction of the high resolution from rich low frequency to fresh high frequency.
You can play the continuation of the previous time with the resume function.
Resume playback function that can play the continuation from the last stopped position. Even when the power is turned off, it can be played from the continuation, saving you the trouble of finding the playback position.
Recording to USB ⇔ SD card is possible!
It is possible to record from USB to SD card, SD card to USB. You can also record from cassette tape to SD or USB.
Radio timer reservation.  Timer reservation recording of radio can be specified that can specify up to 10 calendar days of the week.
Full of convenient playback functions! (SD / USB / CD)
Convenient playback function that is perfect for language learning.
· Speed control · · · "From slow" to "fast", speed adjustment is possible in 11 steps of 0.5 times to 1.5 times.
· AB Repeat · · · You can repeat the set interval.
With "vocal down function" and "echo function" that you can enjoy karaoke easily with vocal down function, you can enjoy karaoke easily at home by connecting microphone to "external microphone terminal".
With convenient remote control <br /> With convenient multi function remote control you can easily operate even at your convenience.
Specification
CD player section
Number of channels 2 channel stereo
Sampling frequency 44.1 kHz
media CD, CD-R / RW (CD-DA format / music disc recorded with MP3 audio file)
SD card part
Playback format MP3 (MPEG-1 Audio Layer 3 (~ 192 Kbps)) / FLAC / WAV
Supported memory SD card (sold separately) (32 MB to 2 GB), SDHC card (sold separately) (4 GB to 32 GB)
Playable SD card Approved by SDA standard
USB memory part
Playback format MP3 (MPEG-1 Audio Layer 3 (~ 192 Kbps)) / FLAC / WAV
Supported memory USB flash memory (sold separately) (32MB to 32GB)
Playable USB memory USB-IF standard certified products (USB 1.1, USB 2.0)
Radio section
Reception frequency * 1 FM: 76.0 to 108.0 MHz (0.1 MHz step)
AM: 531 to 1,710 kHz (9 kHz step)
Cassette tape recorder section
Track system 4 track, 2 channel stereo
Recording method AC bias recording
Erasing method AC Bias Erase
Fast forward / rewind time Approximately 3 minutes (C60 single side)
Recommended tape Normal cassette C60
Common part
Power supply ※ 1 AC 100 V 50/60 Hz
Speaker ※ 1 φ 6.4 cm cone type + 2 cm dome type × 2
Practical maximum output * 1 20 W + 20 W
Input / output terminal External input: φ3.5 mm stereo mini-jack Microphone input: φ 3.5 mm monaural mini-jack SD card insertion port: In compliant with SD standard USB memory insertion port: USB 1.1, USB 2.0
DC 5 V 0.5 A
Power consumption * 1 22 W
Maximum external dimensions * 1 350 (width) × 126 (height) × 218 (depth) mm (excluding projections)
Weight ※ 1 About 3.0 kg
accessories Power cord, remote control (lithium battery attached), AM loop antenna, with guarantee owner manual, reception frequency table
So, basically there are no specs for the cassette section. No auto tape type selector (only normal and high, no metal recording). No autoreverse. No dual capstan or anti-rolling mechanism. No song search or blank skip. Just to remember, my 25 year-old WM-EX5 walkman has it, and more features… And I guess it can have better frequency response, not to mention my WM-D6C or the small WM-701C.
I'll wait until my friend Techmoan reviews it (actually I know he's preparing to do it) but I'm very skeptical about this.
Yes, I like cassettes come back and big names put their attention on it, but hey, have some respect to the cassette. IMHO this is not what we, cassette fans, were thinking about the return of the cassette.