AIWA J500/J08 Mint and working!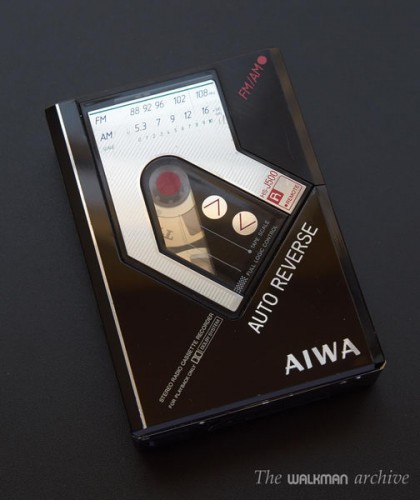 DESCRIPTION
I'm selling here an used AIWA HS-J500 (same model as the J08 sold in Europe). It was the top model back in '85 and it was also a ground-breaking model that offered a bunch of hi-tech features that blowed-up their competitors. All in a compact size. The number of features was really ridiculously high for such a small gadget back then.
It has the following features:
Full Logic control

Remote for all the main functions

OSC Automatic Music Search for a quick skip to the next or previous song

auto-reverse (2 modes)

Radio AM/FM Stereo

Dolby B noise reduction

Tape selector

Two jack outputs

Stereo recording with integrated Mic

Supplied external stereo mic

Metal body

Hard protecting case
STATUS: FULL WORKING
After being serviced by a professional, specialized in walkmans, technician. He has changed the belts, all caps and adjusted azimuth and speed to factory settings. Almost all functions have been checked, except recording. External stereo mic seems to not perform as expected, although it works. Back clip is not included. The stop button of the remote sometimes does FF at first touch (but it stops at second touch). Cosmetic condition is beautiful and there are just very few and rather small scratches.
For details, see the photos.
No black marker has been used (to hide scratches) before taking photos.

INCLUDES
the hard case, the remote and the external mic. All original.
PRICE & PAYMENT
215€
Bank transfer, PayPal. You can also pay it here if you come to get it.
SHIPPING
Cost depends on the country (check price in table below). You can also hand-pick for buyers near Barcelona.
INTERNATIONAL SHIPPING

| | | |
| --- | --- | --- |
|   | Up to 1Kg | Up to 2Kg |
| Zone | Price | Price |
| 1 | 24$ / 18€ | 35$ / 26€ |
| 2 | 35$ / 26€ | 54$ / 41€ |
|   |   |   |
|   |   |   |
|   |   |   |

 

More than 2 Kg

Zone

Base price

Every Kg

A

33$ / 25€

4$ / 3€

B

30$ / 23€

4.2$ / 3,2€

C

21$ / 16€

6.5$ / 4,9€

D

13$ / 17€

6.5$ / 4,9€

E

20$€ / 15€

6.5$ / 4,9€
Zone 1: Europe, including Greenland.
Zone 2: All other countries.
Zone A - Germany, Austria, Belgium, Denmark, Slovakia, Slovenia, Finland, France, Greece, Ireland, Italy, Lithuania, Luxembourg, Netherlands, Portugal, United Kingdom, Sweden, Gibraltar, Switzerland, Norway and Iceland.
Zone B - Rest of Europe not included in Zone A. Azores, Madeira, Monaco, Isle of Man and Morocco.
Zone C - Africa except Morocco (countries that support this service.)
Zone D - Asia and Pacific (countries that support this service.)
Zone E - America (countries that support this service.)
NOTE: 4$/3€ will be added to the shipping cost, for packing costs.
Still interested? Then, drop me a line to:

2 Responses