SOLD -> MARANTZ PMD-430. Serviced and working! <-SOLD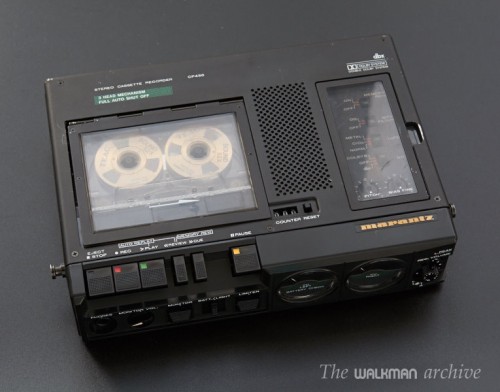 DESCRIPTION:
This is a retro MARANTZ PMD-430 professional stereo recoring portable deck. This big walkman (or small deck, whatever you prefer to name it) is  one of the top-3 best sounding walkman ever done. It can record in stereo through the line-in or mic-in and it sounds really awesome, having nothing to envy to the majority of full-size high quality decks. Thanks to the dbx system, it can match the same level of background noise as a CD, with more than 80dB dynamic range!
It has the following features:
- 3 head deck, allowing to monitor the recorded tape while recording
– Bias control
– dbx hi-end noise reduction system, offering more than 80dB of DR!
– Dual, illuminated, VU meters
– Speed control
– Line-in & dual Mic inputs, as well as line-out
– Manual, channel independent rec knob
– Auto mic limiter.
– Full auto stop mechanism
– High stability mechanism with very low wow and flutter.
- Dolby B Noise reduction
- Normal, CrO2 and Metal selector
– Original case
- Metal body
It's a not easy to find walkman, targeted to professionals and press reporters that will blow you out with it's sound quality.

STATUS: FULL WORKING:
It had the belt replaced with a new one as well as one swith and some caps.
You really can't imagine how powerful, dynamic and clean it sounds if you never heard one. Not only that, modern MP3 players (even the most popular and better ones) cannot compete with it. The dynamics and musicality of this small beautie cannot be match with almost any other walkman out there. However, I have to warn you that the headphone output has a slighty high hiss in the background and the full quality can only be heard through the line-out.
Cosmetically the unit is in good condition, but with some small scratches. For details, see the photos.
No black marker has been used (to hide scratches) before taking photos.

INCLUDES:
What you see in the pictures.
PRICE & PAYMENT:
185€
Bank transfer, PayPal. You can also pay it here if you come to get it).
SHIPPING:
Cost depends on the country (check price in table below). You can also hand-pick for buyers near Barcelona.
INTERNATIONAL SHIPPING

| | | |
| --- | --- | --- |
|   | Up to 1Kg | Up to 2Kg |
| Zone | Price | Price |
| 1 | 24$ / 18€ | 35$ / 26€ |
| 2 | 35$ / 26€ | 54$ / 41€ |
|   |   |   |
|   |   |   |
|   |   |   |

 

More than 2 Kg

Zone

Base price

Every Kg

A

33$ / 25€

4$ / 3€

B

30$ / 23€

4.2$ / 3,2€

C

21$ / 16€

6.5$ / 4,9€

D

13$ / 17€

6.5$ / 4,9€

E

20$€ / 15€

6.5$ / 4,9€
Zone 1: Europe, including Greenland.
Zone 2: All other countries.
Zone A - Germany, Austria, Belgium, Denmark, Slovakia, Slovenia, Finland, France, Greece, Ireland, Italy, Lithuania, Luxembourg, Netherlands, Portugal, United Kingdom, Sweden, Gibraltar, Switzerland, Norway and Iceland.
Zone B - Rest of Europe not included in Zone A. Azores, Madeira, Monaco, Isle of Man and Morocco.
Zone C - Africa except Morocco (countries that support this service.)
Zone D - Asia and Pacific (countries that support this service.)
Zone E - America (countries that support this service.)
NOTE: 4$/3€ will be added to the shipping cost, for packing costs.
Still interested? Then, drop me a line through the contact form.