SOLD -> SONY WM-EX9 Metallic Colour – aka. chameleon <- SOLD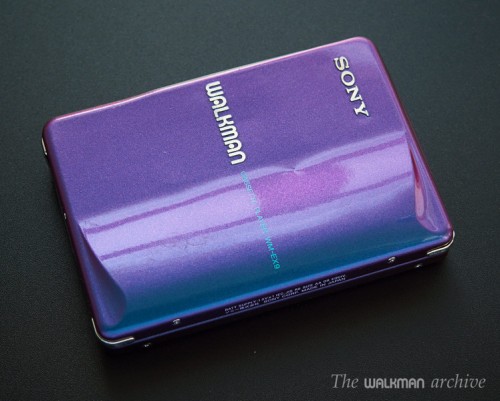 DESCRIPTION
This is an used SONY WM-EX9 'Chameleon'. It's one of the coolest walkman players ever released, and even cooler than the vast majority of modern players IMHO.
It's painted with an very special glossy paint, developed by SONY exclusively for this model. This is only model in their history to have it. It has the extraordinary ability to change their color from green to orange, through blue or purple. It's very difficult to describe in words, so I took the best pictures I could (actually a difficult task) so you can see it. there's absolutely NO Photoshop retouch on them. It's the real color.
It has the following features:
Unique changing color glossy paint

AMS Automatic Music Search feature with various ways of finding music on the tape

Automatic blank skip feature

Fully automated auto-reverse operation

Mega Bass,Groove and Revitalizer sound preset equalizer

Dolby B noise reduction

Automatic tape selector

Rechargeable battery system with NiCd flat-type battery

Operation is possible with the external AA battery case (supplied)

Super long battery life (100h)

Fully featured and highly sophisticated remote control with illuminated liquid crystal display
STATUS
FULLY WORKING. Mechanical operation is quiet and smooth and everything works. Winding times are very fast and even then the mechanism remains quiet. It is obviously of very high quality. Cosmetic condition is beautiful and there are only very few and very small scratches in the front door and a very small ding, that is normally not appreciated. In normal conditions they remain unseen.
I'v tested the sound quality with a very high quality tape (SONY UX Pro) with an also very high quality recording (made in my Nakamichi Dragon) and my Sennheiser HD280 Pro headphones and I can say that the sound is pretty good! Not a DD9 or a DC2 but undoubtely a high quality sound, with crisp highs and very powerful bass. The Groove position is my favorite, rather than the Megabass. The Dolby B performance is very good, with no treble loss if the tape has a good recording and Dolby-encoding.
For details, see the photos.
INCLUDES
All you can see in photos plus the external battery case.
PRICE & PAYMENT
255$ / 190€
Bank transfer, PayPal. You can also pay it here if you come to get it.
SHIPPING
Cost depends on the country (check price in table below). You can also hand-pick for buyers near Barcelona.
INTERNATIONAL SHIPPING

| | | |
| --- | --- | --- |
|   | Up to 1Kg | Up to 2Kg |
| Zone | Price | Price |
| 1 | 24$ / 18€ | 35$ / 26€ |
| 2 | 35$ / 26€ | 54$ / 41€ |
|   |   |   |
|   |   |   |
|   |   |   |

 

More than 2 Kg

Zone

Base price

Every Kg

A

33$ / 25€

4$ / 3€

B

30$ / 23€

4.2$ / 3,2€

C

21$ / 16€

6.5$ / 4,9€

D

13$ / 17€

6.5$ / 4,9€

E

20$€ / 15€

6.5$ / 4,9€
Zone 1: Europe, including Greenland.
Zone 2: All other countries.
Zone A - Germany, Austria, Belgium, Denmark, Slovakia, Slovenia, Finland, France, Greece, Ireland, Italy, Lithuania, Luxembourg, Netherlands, Portugal, United Kingdom, Sweden, Gibraltar, Switzerland, Norway and Iceland.
Zone B - Rest of Europe not included in Zone A. Azores, Madeira, Monaco, Isle of Man and Morocco.
Zone C - Africa except Morocco (countries that support this service.)
Zone D - Asia and Pacific (countries that support this service.)
Zone E - America (countries that support this service.)
NOTE: 4$/3€ will be added to the shipping cost, for packing costs.
Still interested? Then, drop me a line through the contact form.
One Response