Deep cleaning of my beloved AIWA CSD-SR6, a beautiful beast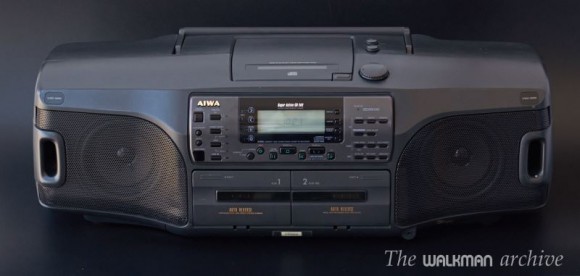 I received at home my old beloved boombox that I've had when I was a teen: the AIWA CSD-SR6. I bought this boombox back in 1991, just before I started studying in the university. I've had a nice Hitachi 3DS75 and I really was searching for a big -but still portable- improvement. And I found this impressive piece for 56.000 pesetas (spanish coin back then) which is around $750 of 2014 US dollars…
This model is the best boombox I've ever seen (and listened to) that could be bought outside Japan. However, there were a few high level competitors that could surpass it: his biggest 'brother', the awesome CSD-SR8, the Panasonic RX-DT9 (I wrote about both in this article) or the massive SANYO PH-WCD950.
It has a huge lot of features that represent the one of the most advanced (if not the most) boombox made in the 90′s (outside Japan, again). It includes:
Double quick autoreverse deck, metal compatible, with rotating heads.
10.000cc resonance capacity speakers each with bass reflex ducts (the biggest resonance capacity seen in a boombox).
15W DIN power
Two knobs for bass and treble.
Dolby B (for recording also).
Syncronized computerized CD recording to tape (does ALL: analyze CD, adjust recording level, records two sides, erases cropped songs at the end of each side…)
PLL radio with 30 presets.
full wireless remote with so many functions.
Motorized volume knob
… and many other…
This beauty was at my father's home for many years, collecting dust far from me. This is how it looked one year ago when I pulled it out of the closet: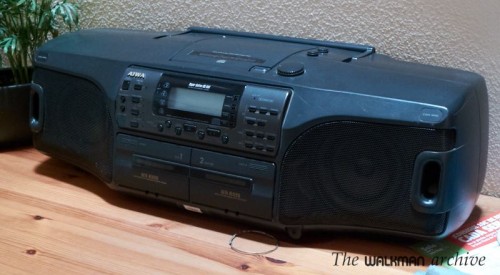 Not bad, but if you look close, you will notice the dust: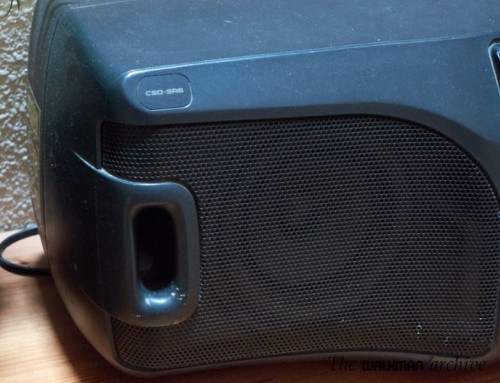 But look inside the decks: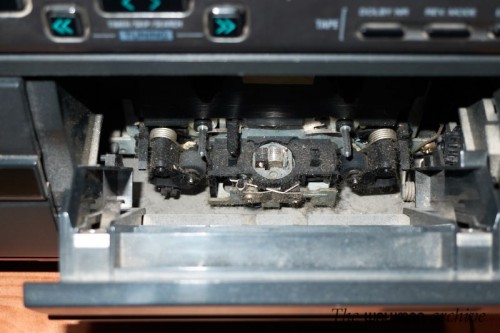 I managed to take back home after so many years and decided to do a deep cleaning of it, so it will be part of my collection again. I fully dissasembled it. After some brief clean, this is how it looked: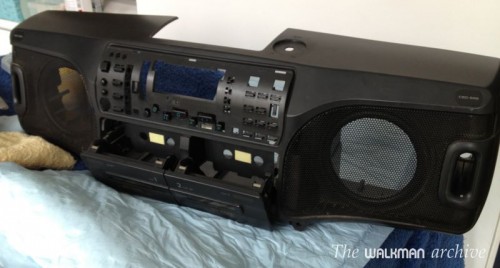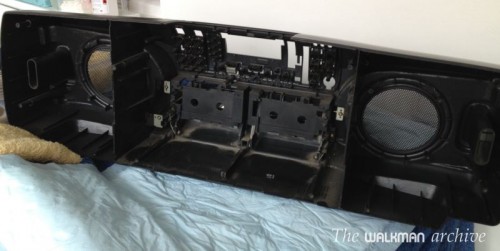 in a closer look: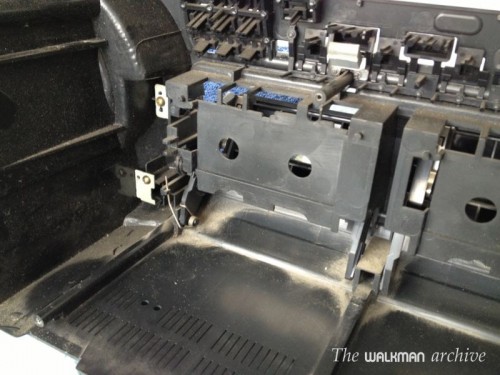 So, I removed every cable and electronic board and put it in the shower and started to deep clean it. It's definitely a rare shot to see :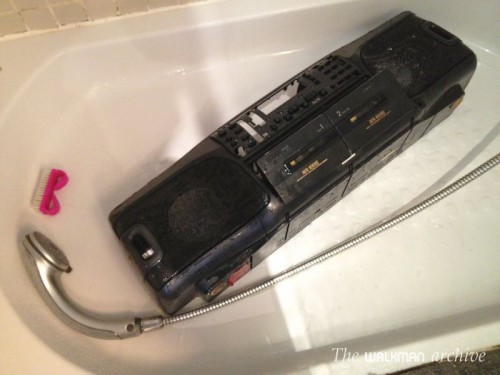 Once cleaned and dryed, started to put things. First, the internal power supply: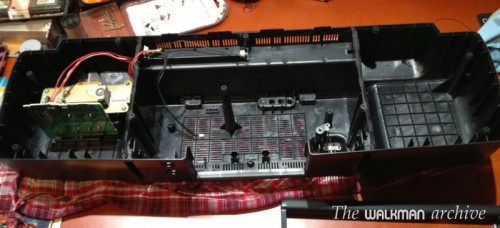 It's curious to see the internal ribs to make more rigid the speaker box: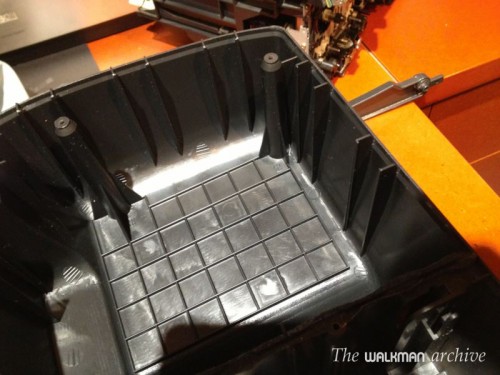 Then, I mounted the speakers: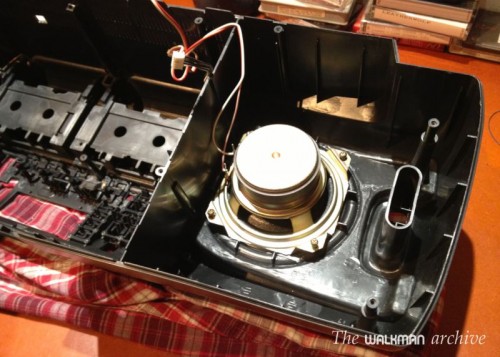 Here is the internal electro-mechanic block, with the two decks after cleaning and demagnetizing: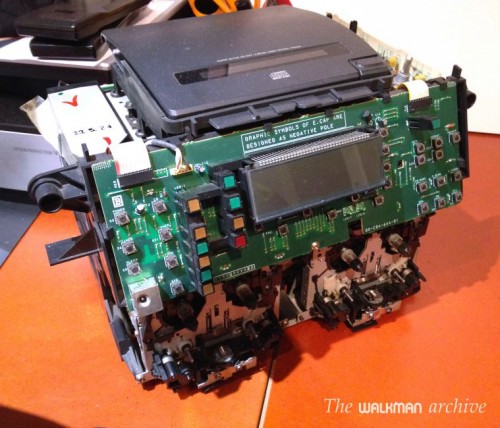 So finally, I could assemble all and adjust the azimuth to finish it. Now, this is how it looks: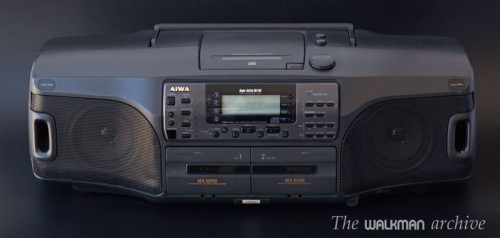 Nice, huh?
Of course, both grids as well as speakers were carefully cleaned too, to take them back to the clean original black look: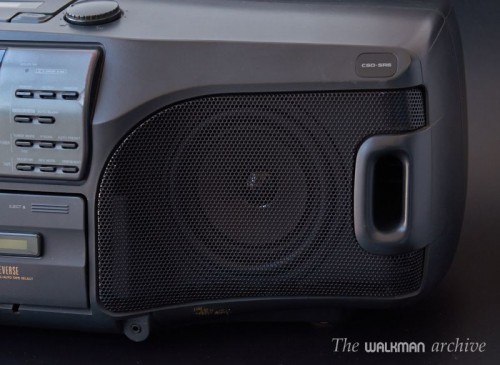 Look at the front control panel: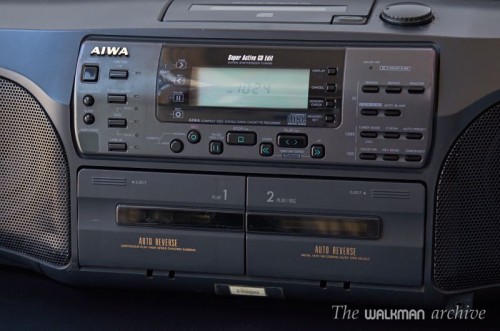 The top side is very clean, with only the CD, volume and tone controls: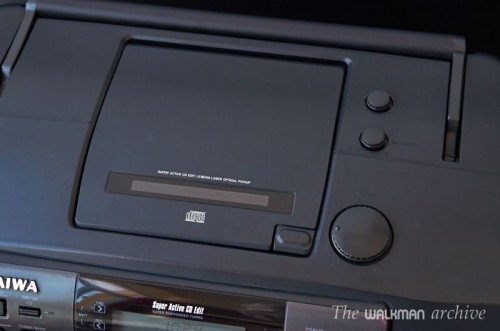 It's curious that it has the common 'Bass & Treble' knobs as seen in many HI-FIs. The BASS knob goes from 'Narrow' to 'Wide':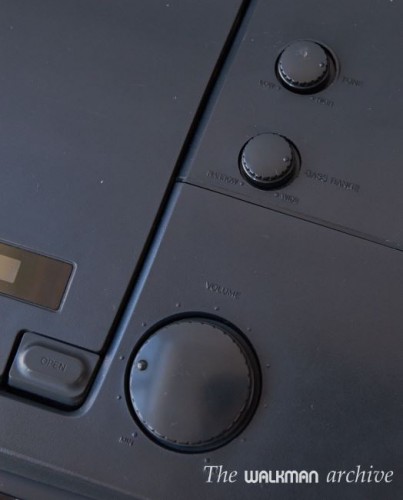 Now the heads look completely different, and they have excellent sound!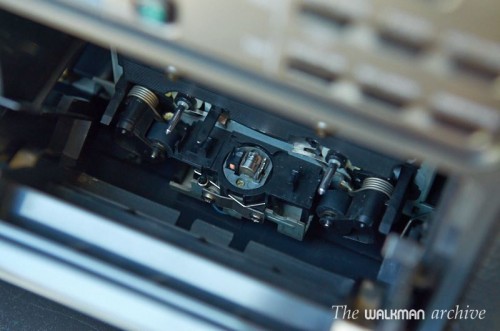 Here you see the radio station playing: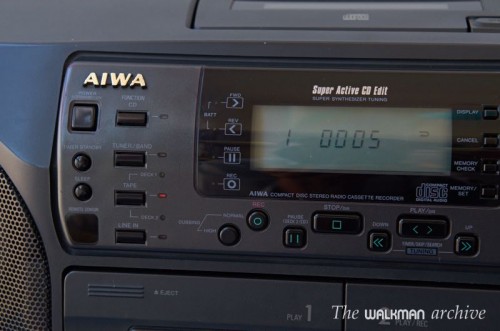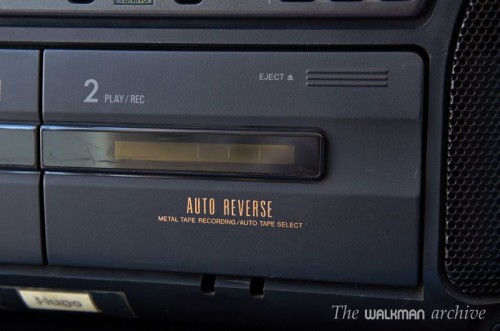 And here's the radio: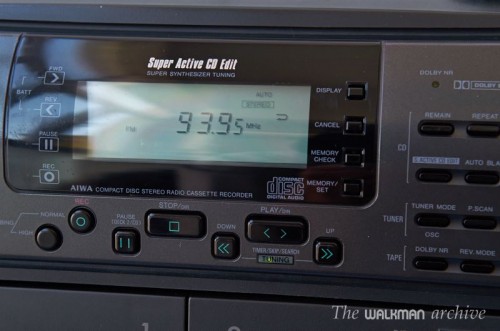 And here you can see its back: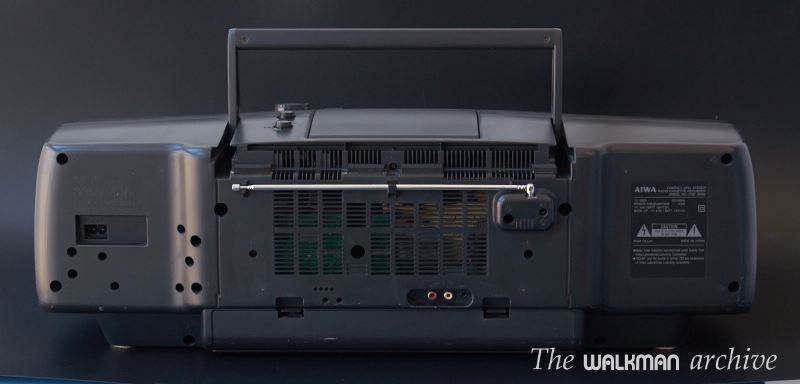 And that's all! I hope you enjoyed a lot.