My first reel to reel: the magnificent Pioneer RT-909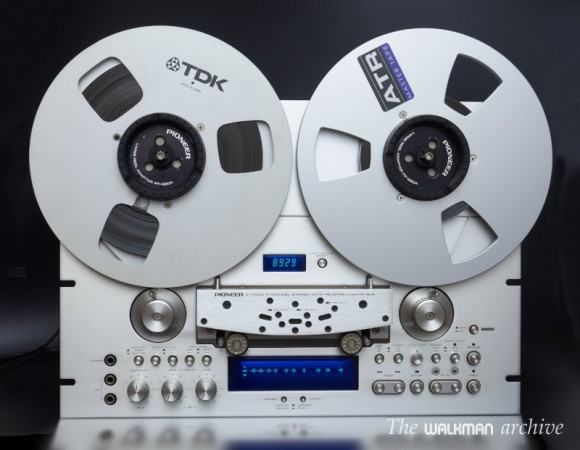 I never had seen a reel to reel machine until a few years ago. I mean, in person. I have only seen them in some books and in a few movies. My interest on them has growed in the latest years, after I discovered the incredible quality of the high-end analog audio. Many people talk about R2R as the best format, ever.
I started to read about them and to search for the best brands: TEAC, AKAI, Pioneer, Studer, Revox… In my country there's just a small possibility to get a Studer or a Revox, so I keep looking to the rest, and a few models came out: the TEAC X-2000R, the AKAI 635D and 747D and the Pioneer RT-909 (and a few others). All them are incredible machines. As they can handle tape reels up to 19.5 cm/s (compared to the 4.78 cm/s for cassettes), you can imagine the level of resolution and quality that they can give. Similar machines were used in the studios to store album masters for many years, up to the 90s.
Guess what? Many CDs that you have at home were recorded in analog tapes and are a simple copy of the original reels.
After some searching, I saw many machines in the states, but shipping to Spain doesn't look a good ideal, for various reasons. So I narrowed the search to my country… and finally I got the opportunity to buy one in excellent condition. It had very few use, so the chance for a good condition heads and the whole mechanics was high… and I bought it.
It was originally a property of Mohammed Ashmawi, an arab sheikh who spent most of hist time in Marbella (you can read a bit of himself here), so I was excited to be the proud owner of a device that has been a property of one of the richest man worldwide.
When it arrived, it was in good condition, although there was dust and a bit rusty here and there, but I took it to Sergi, an true expert tape deck technician at GSP Iberica, that I was pretty confident he could restore it perfectly as I would like. So I ordered belts from Marrs communication (they are widely known for being the best ones), new rollers and let him do his 'magic'. I told him I'd like to replace all capacitors in the signal path and upgrade them with the best caps he could find.
And so he did (you can read more about the restoration here). So, here's the restored Pioneer RT-909 in its full glory: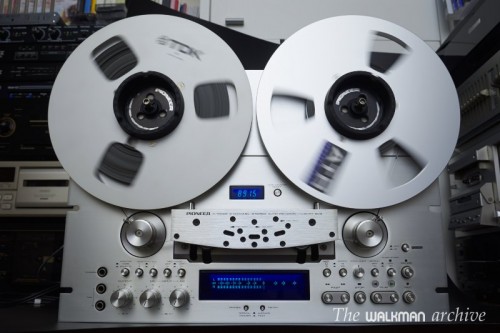 Not only it works perfectly, but also sounds really well. I still could only play with it for a few hours with an old tape, but even with that 30 yr-old tape it performs almost perfectly. I found  brand new tape reels from ATR Magnetics and bought one reel, and I still have to test it.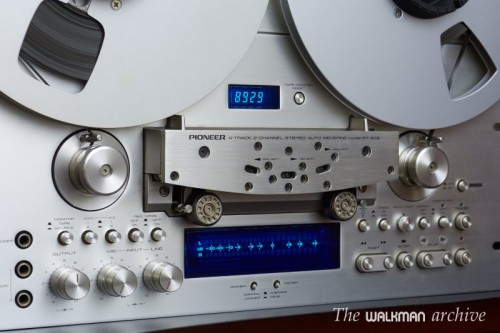 This is where the heads are placed (underneath this metal plaque). You can also see the azimuth adjustment screws. It's curious to see how fast the new rollers got dirty with that old tape…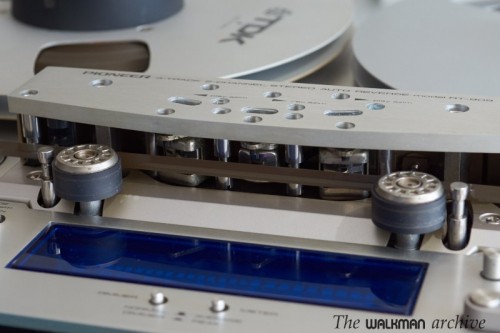 Here are the heads. Left one is for playing 'side B', center one is the recording one, and the left one is the main play head.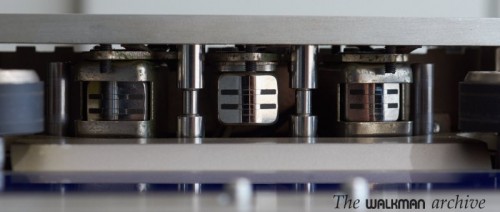 Below it there's the main VU meter display, in beautiful blue, almost identical to the CT-F1250 that I also have. Brightness is adjustable as well as the ballistic of the meters (peak or average).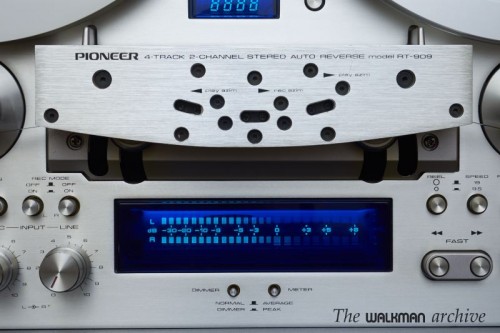 In the lower left corner you can find the knobs for adjusting the output (surprisingly, this knob affects the VU meters), the mic and line input. Above there are the switch for source/tape and two adjustments for bias and rec eq, which is not common at all in this kind of recorders (but it's a pretty nice feature).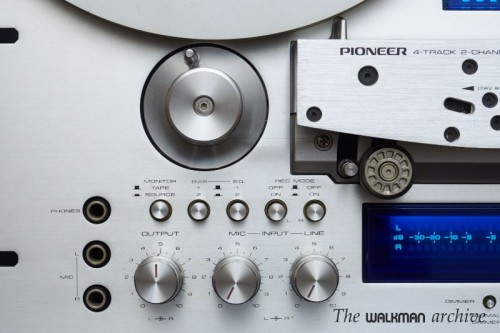 In the other corner you can find switches for the diameter size of the reel (in this case I have the big ones), the speed of the tape (choosing between 9 and 19.5 cm/s), a pitch fine adjustment (which is good for playing tapes recorded on another machine with a bad speed). There's also a switch for activating the autoreverse (yes, this 35 year-old beauty has it), a timer start and the pause button.
Below you find the common control buttons.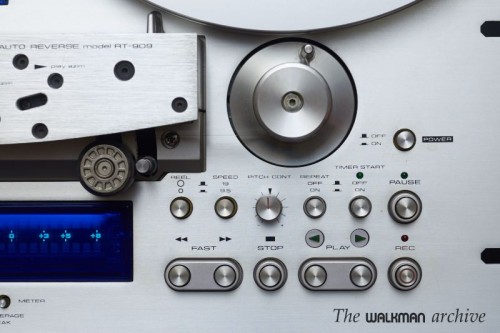 And here's the reel to reel, 'reeling'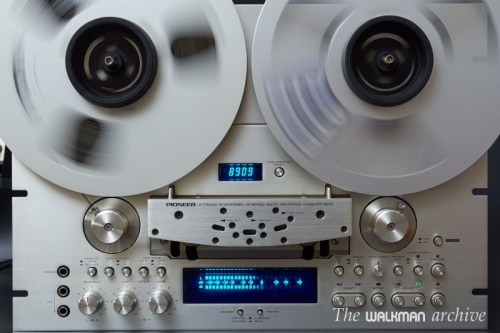 Tags: Pioneer, R2R, Reel to reel
This entry was posted on Monday, August 3rd, 2015 at 2:29 pm
You can follow any responses to this entry through the RSS 2.0 feed.