My entire cassette deck collection! (with video)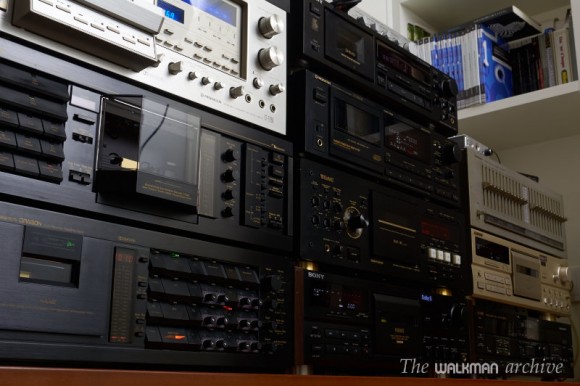 After some request, I decided to make a video showing my entire deck collection. So I put all them together in the same table and connected most of the to the audio chain.
From left to right and up to down, here are the decks:
Pioneer CT-F1250
This deck was their top of the line model back in 1979. It was made with the aim of being the best deck ever. Pioneer's engineers did their best, without having to mind about the final price, and they indeed made an awesome job. Most F1250 decks today need a though restoring as they are very old. Mine has been completely serviced and upgraded by Alex at ANT Audio and, with a brand new head and a lot of small upgrades, it sounds absolutely awesome, at the same level of my Dragon.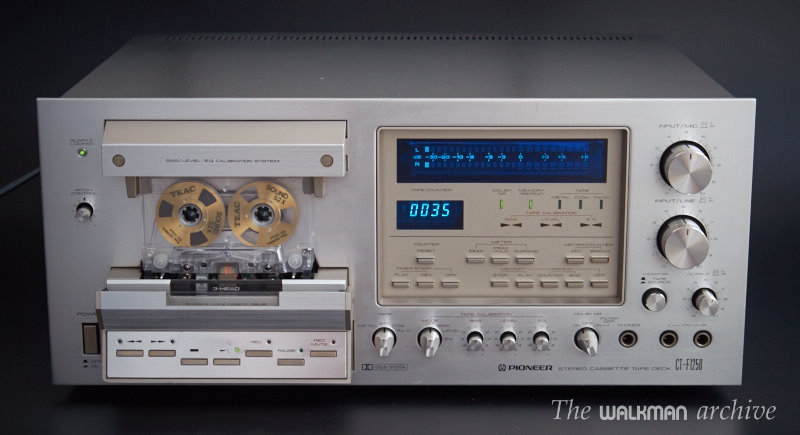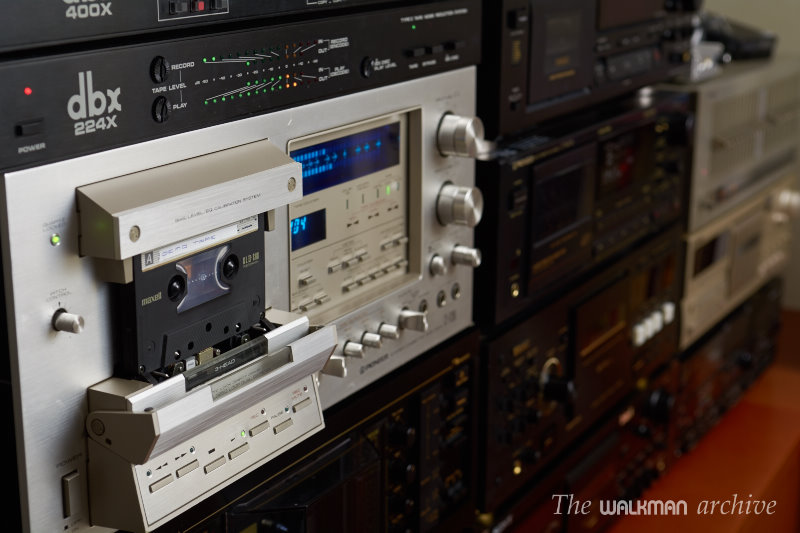 Nakamichi RX-505
This is the coolest Nakamichi by far, and probably the coolest deck ever, thanks to it's jawl-dropping auto reverse mechanism, called UDAR (UniDirectional Auto Reverse), which actually flips the cassette and not the head as the rest of the decks.
After being also restored and upgraded by Alex at ANT Audio, it sounds awesome.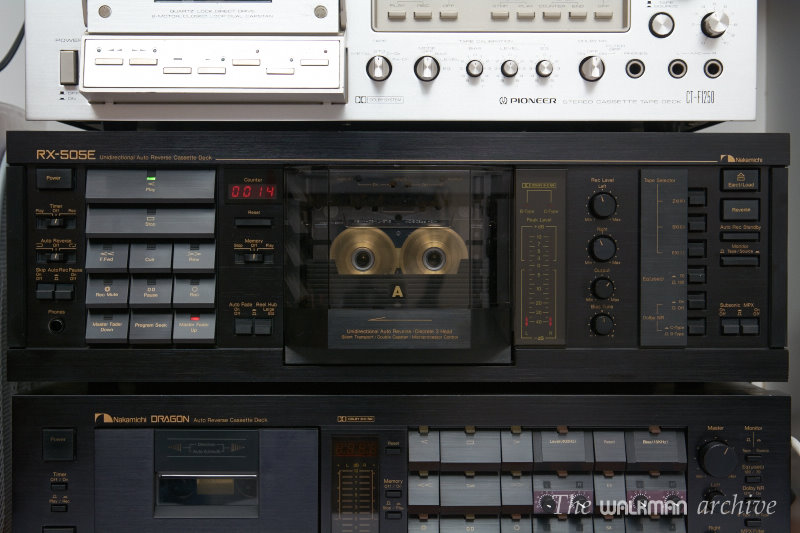 Nakamichi Dragon
This deck is the best Nakamichi ever, and often considered the best deck ever made (although there's an endless discussion if that place maybe pertains to the Nak CR-7, ZX9, 1000ZXL, Tandberg 3014 or the Revox B215)
It's NAAC mechanism (Nakamichi Auto Azimuth Correction) corrects the azimuth while playing just by listening to the very recording, which is an impressive mechanism that can extract every bit of treble present in the recording like no other deck.
Its calibration possibilities are unmatched, with 12 knobs for each channel and type of tape using low and high tones.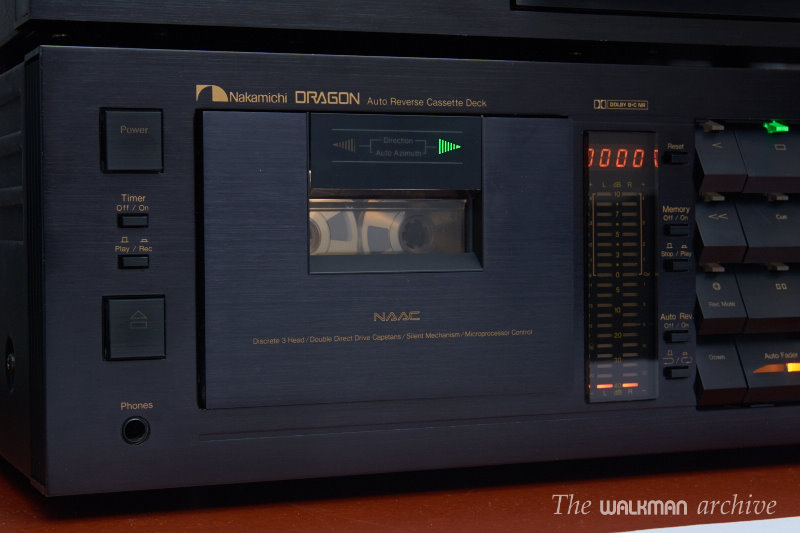 SONY TC-K570
It's a simple 3-head deck from the latest years. It combines a good mechanism with Dolby B-C and HX Pro. It sounds pretty well although it cannot compare to the big ones. Nice and cheap.
Pioneer CT-M601R
This deck can compete with the Nak's RX-505 for being the coolest deck, with its 6-cassette loading bay. Although very cool, its plastic face cannot stand up to the point with the RX-505, but it's indeed very cool. Having the ability to play six tapes without stopping for almost 6 hours was a really nice feature for parties in the '90s.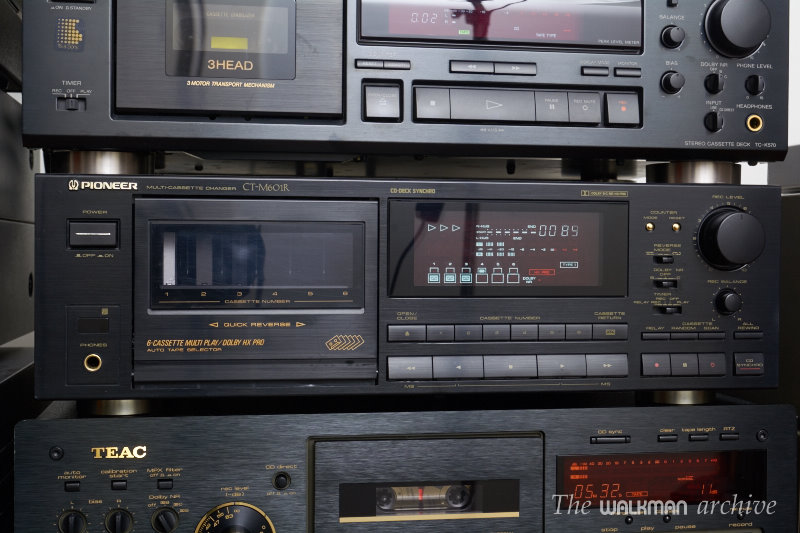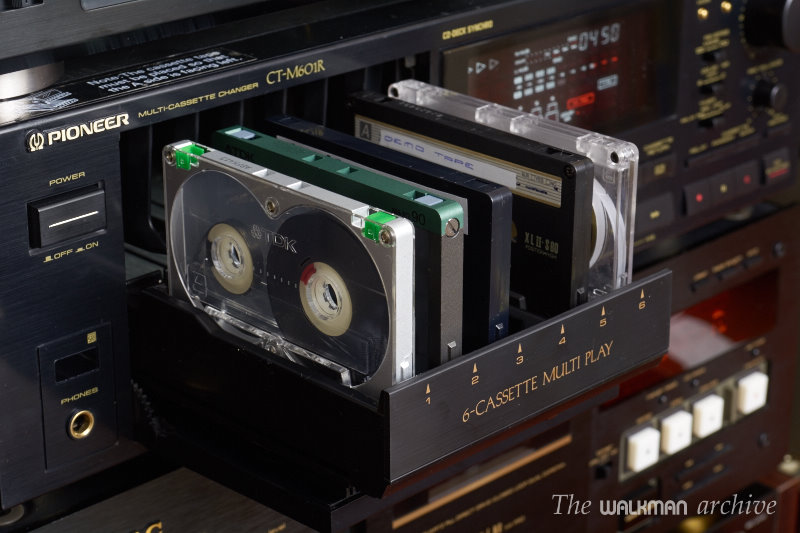 TEAC V-8030S
This TEAC is one of the most elegant decks I've seen. It's one of the best decks this brand made in their whole history (beside the Z5000, 6000 & 7000) and it's built like a tank. Its calibration possibilities are very good, with bias and level knobs for each channel. The sound is excellent, but a bit under the rest of the big ones. Although mine is in perfect condition and well aligned azimuth, the sound is not that open and wide. And the highs are not as good.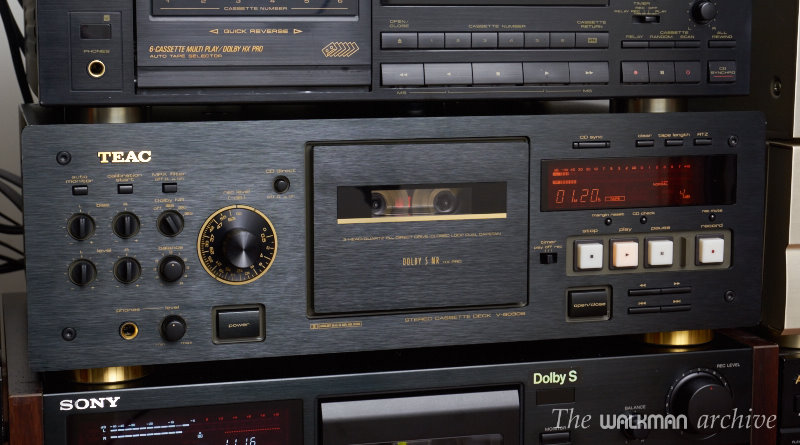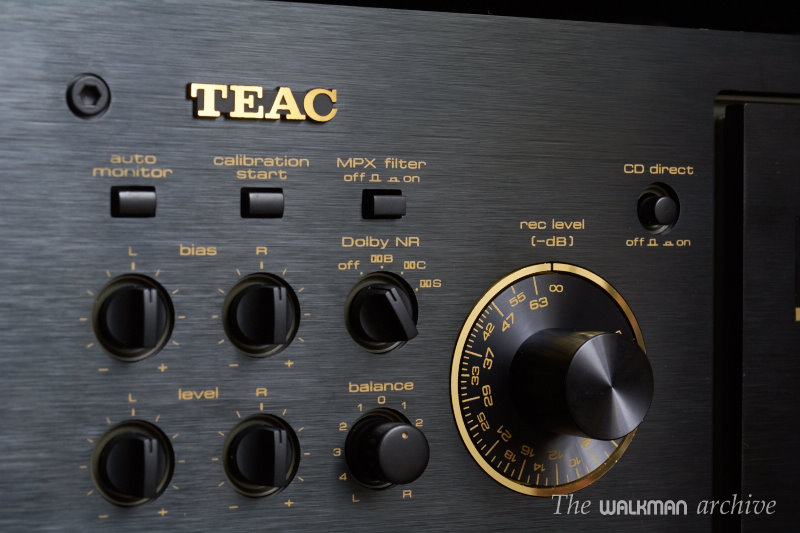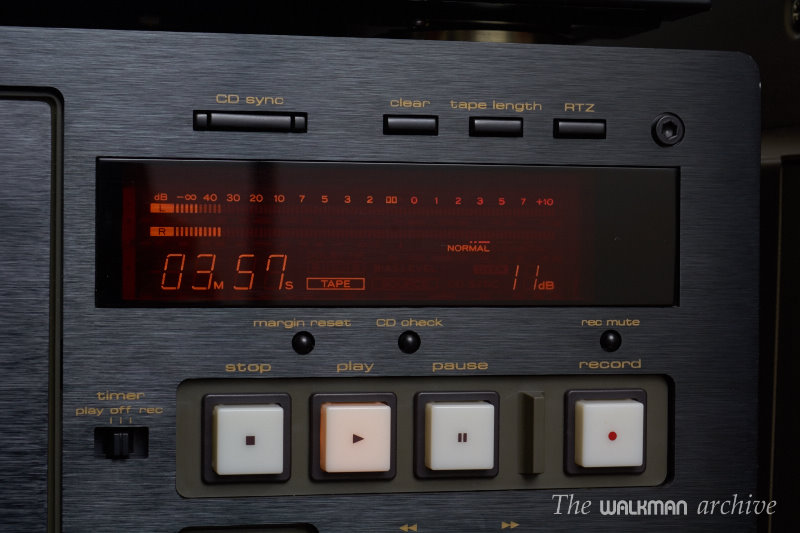 SONY TC-K909ES
This indeed one of my favorite decks. It's not the best sounding of the bunch (although just a small bit below the Naks or the F1250), its combination of features, ease of use and beauty really keeps me in love with it. Especially with the Champagne finished one.
Its easy assisted calibration system and the wide calibration features make -IMHO- an unmatched deck. Yes, there's the K990ES, KA6 and KA7 which are -suppossedly- a bit better but not as beautiful as this one. It's also very easy to service and relatively modern, so most are still working without problems.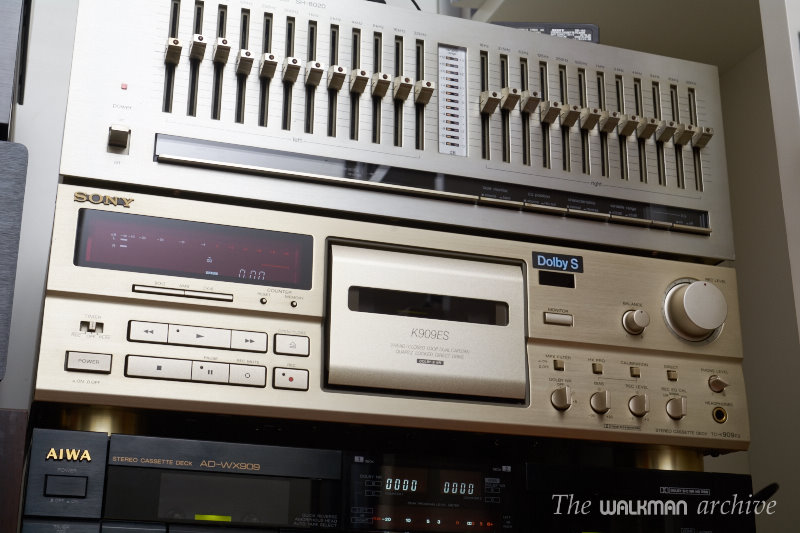 AIWA AD-WX909
I'm not a fan of the double decks at all. They have clearly less audio quality than good 3-head single decks… but this one catch my attention a while ago. This is one of the best examples of AIWA's best technology and innovation, because it actually combines two separated and completely independent decks in the same space. they doesn't share anything. In fact, there are twin ouputs in the back, one for every one of them.
The most surprising feature is that the right one is in fact a 3-head deck which shares most of the mechanics from the AD-F800, which is a pretty good one.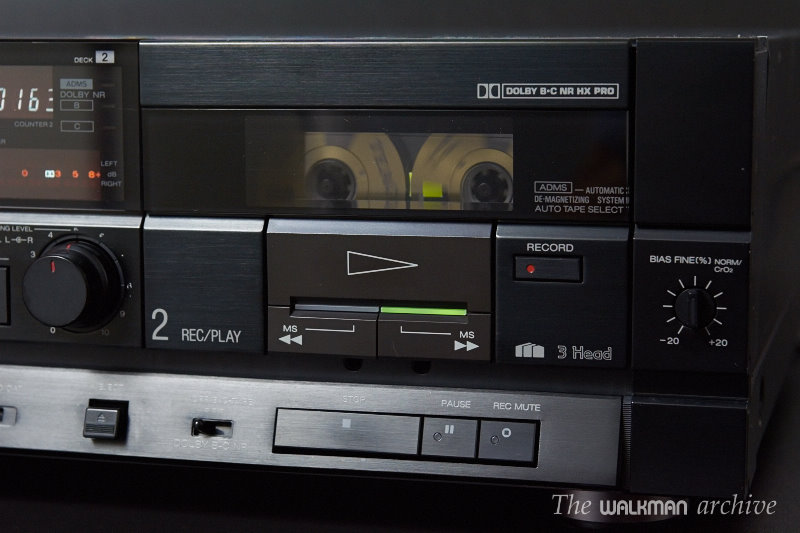 Don't miss my full review here.
dbx 400X
This is the core of my entire stack. This wonderful device allows me to connect and manage easily:
Up to three decks (with both playing and recording capabilities)
Up to three external effects (so the sound goes out, passes through those effects and comes back to the chain). You can choose whether you want to post or pre process the sound or even use it only when copying from one deck to another.
One external noise reduction unit (with both decoding and encoding process)
Thanks to the dbx 400 I can connect three external processors actually: my Technics SH-8020 EQ, the BBE  422A Professional Sonic Maximizer and lately a dbx 3BX-DS crossfeed, expander-compressor processor. I can enter any combination of these in the chain to use it just for listening or to modify the recording.
I can also easily do cassette copies (although I do it rarely) and choose which one is the master deck, which one/s will receive the sound and which effects be present. I can also choose whether the dbx (or lately Dolby with my JVC NR50 unit) the noise reduction unit will decode the playing deck, encode the recording/s or even both things at the same time. Last but not least, I can choose what to listen to: the master deck, the recording deck, after or before the encoding process.
Nice, huh?
Technics SH-8020
I can't live without this EQ. It's a real classic, 12-band independent for each channel that works in the 16-32kHz range. So, you guess: it's a workhorse, and it's fully analog. No LCD display, no IC, everything discrete. And it can be feel in its sound, which is absolutely transparent when it's in with a plain curve (if that can be a term with sense).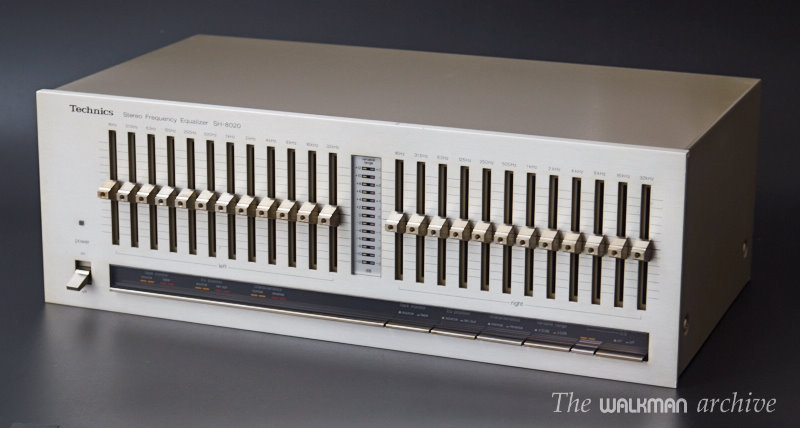 It's connected in the first place of the three external processors.
BBE 422A Sonic Maximizer
I can't tell you how much I love this device. This wonderful piece of audio gear makes E-VE-RY-THING sounds better. It brings life to the music. If you are listening to an album that you feel lacks some life and punch, just turn it on, set the desired levels of bass warmth (Lo-contour) and detail (Definition) and that's all. The only problem is that it's a vicing device: once you engage it, everything sounds a bit dull without it, so I always try to use it only when it's necessary.
Definitely a must in every serious audiophile (especially old analog units like mine).
dbx 224X
You probably know very well the Dolby system… but do you know that there existed other system called dbx which was far more powerful and efficient? Yes, the dbx can reduce the background noise like Dolby. But, contrary to Dolby which only affects the high frequencies, dbx reduces the whole range, with a higher reduction (around 40dB) and preserving the original dynamic range.
This dbx 224X was one of the best units made as it allows you to fully adjust the input and output levels and it even has a special position for very rare dbx discs.
The rest can be seen in the video: