Stere2go.com, alive and kicking for many years on…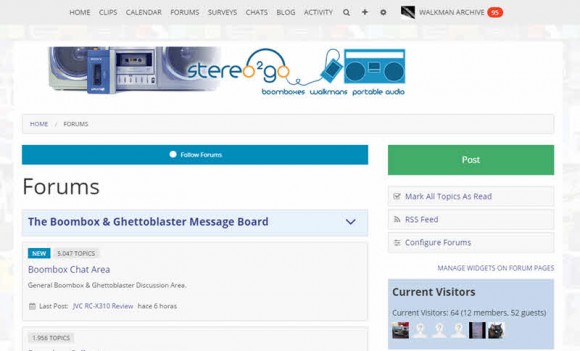 If you don't know it, Stereo2go es the world's biggest forum dedicated to walkmans and boomboxes since many years. That was thank to Paul a boombox and walkman lover that lives in the US and started it in the early 2000. I joined it back in mid 2010 and have learned a lot thanks to the awesome people that lives there.
In the last days a sad news made me jump out of my chair: Paul had put the forums for sale (actually that happened some months ago but I didn't see it) and finally, after month of waiting for someone who is interested, seemed that no one was, so he decided to close it. He put an advertising for letting everyone know what will happen in few days.
I contacted him directly to see if he will agree to sell it to me and how much will it cost. After that I contacted three friends that are also passionate walkman fans and we together decided to buy it. And so we did!
So… that's it: we are the new owners of the site! Wow. I can't believe it I'm owner of the site were I've learned a lot of what I actually know about walkmans. It was just six years ago when I joined and introduced myself to the others with my first post.
We want to keep this wonderful community alive but also want to make some changes and try to make it more active. So, if you haven't joined, please join us and have joy. We have some nice news for you.