AIWA XK-S9000 Champagne, the brand's flagship deck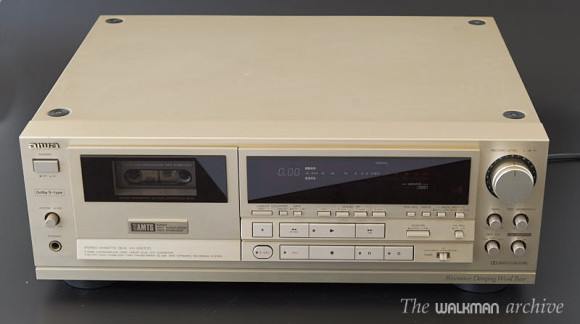 Some months ago I got, thanks to a bit of luck, the most sophisticated deck AIWA ever released, the XK-S9000. I still remember to watch and drool while seeing this piece of beauty in the brochure that I still have saved since 1992.
I always wondered how much better can it sound compared to my beloved AIWA CSD-SR6 boombox that I got then. You may be laughing now… Well, yes, I was just a teen and never experienced any better than my boombox until I was a bit older.
And, yes, the S9000 definitely performs much better than any dual deck, even taking in count that the ones that the SR6 features are pretty good and could be some of the best in the boombox cathegory.
This is not a full review (I plan to do it when I have some free time) but rather a first look at it.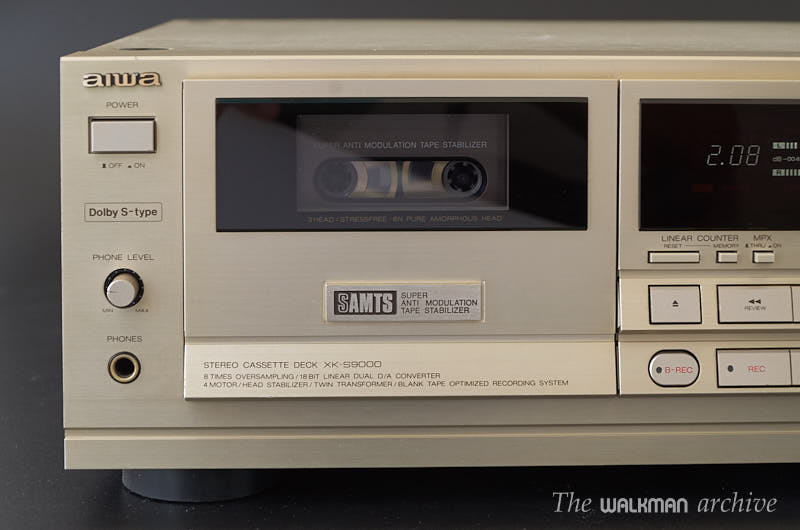 The list of features is overhelming:
3-head | 6N pure amorphous head.
4 motors.
Super stabilized Tension Dual Capstan (belt driven)
Head stabilizer and Super Anti Modulation tape stabilizer (SAMTS).
Motorized tape loading
3 stage calibration system: Bias, Rec sensitivity, Rec EQ.
Dolby B-C-S + manual HX Pro.
Resonance damping wood base
BTOR system: Blank Tape Optimized Recording that disables the erasing head on blank tapes!!
8 times oversampling, 18-bit linear Dual D/C converters.
Independent and external power transformers for better isolation.
Champagne finish metal face.
Optical & Coaxial inputs.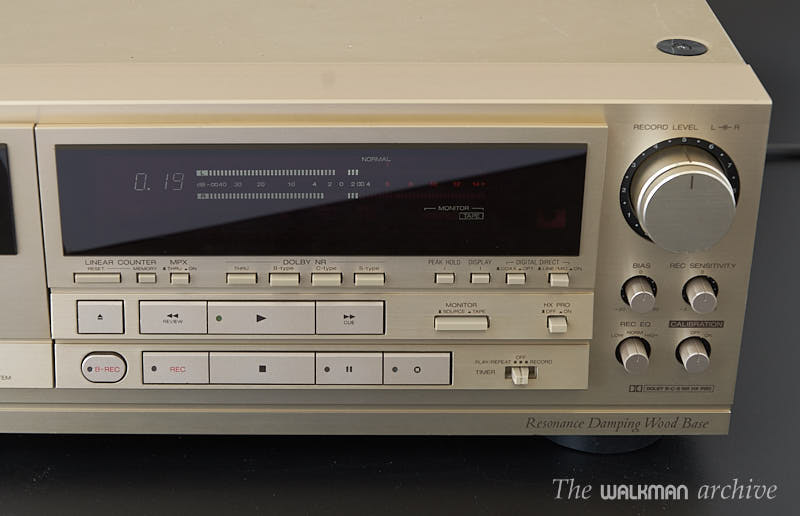 The problem I got with this deck is that it is very very deep. Not only it measures very deep, but also has two big transformers in the back: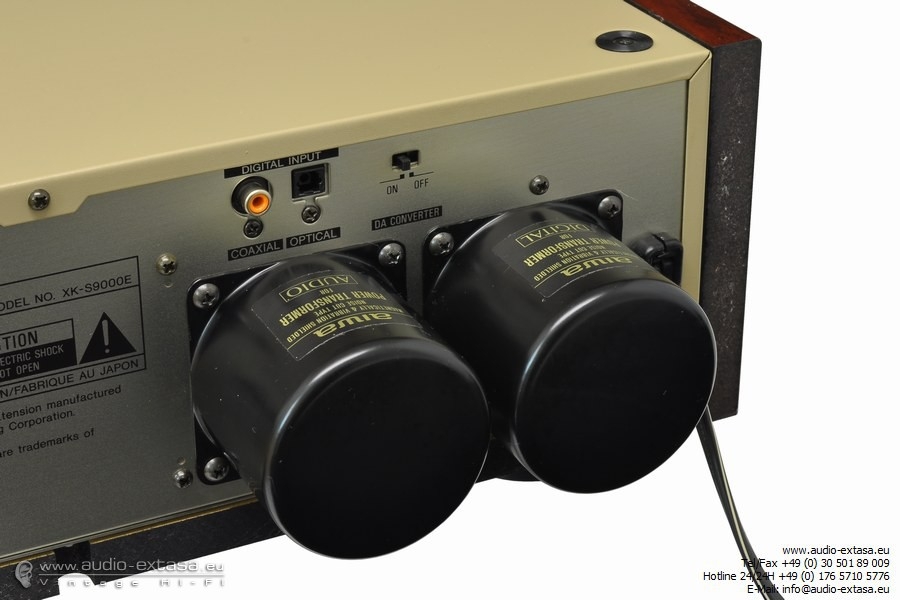 Photo: www.audio-extasa.eu
So when I tried to fit it in my stack I could not place it in line with the others. And that's a BIG problem to me because the wall is behind the deck and there's no way it can fit. To make things worse, there's a door beside it (at the left) that cannot be properly opened due to the deck.
What to do? I asked Sergi from GSP Iberica, my technician, if he can remove those 'caps'. I believed that they were the dual D/A, so as I didn't want to use at all, they are useless to me. But they weren't. In fact they are the separate transformers to power the deck. So removing them is not an option…
But we can put them apart from the deck, just by adding cables. So I measured what length would I need and he did his work. I asked him to do a quick work as I was very impatient to enjoy it. He first did the usual manteinance: belts, internal check and adjustments and everything was fine. There was only a issue: the big rec knob was a bit loose, but that issue was easily solved by tightening a few screws.
Then he finally achieved what I asked for: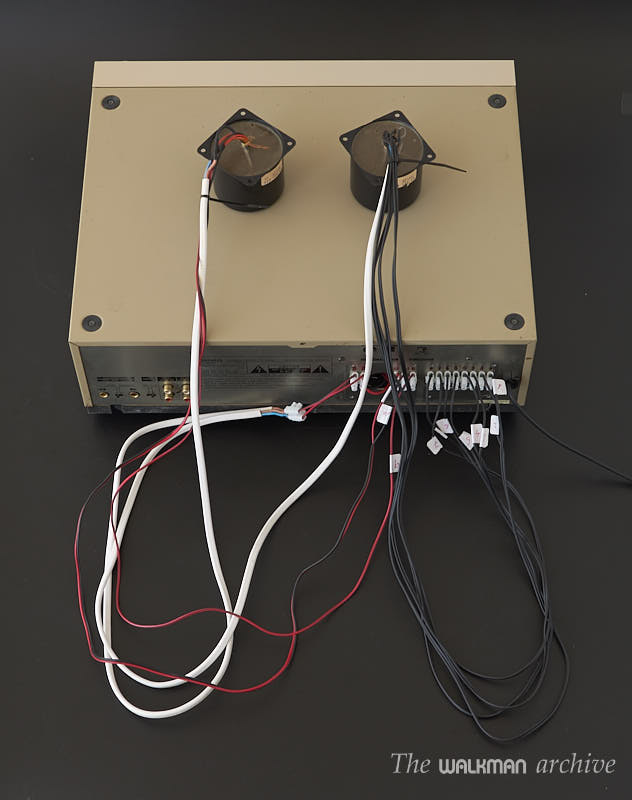 Here's a close-up detail: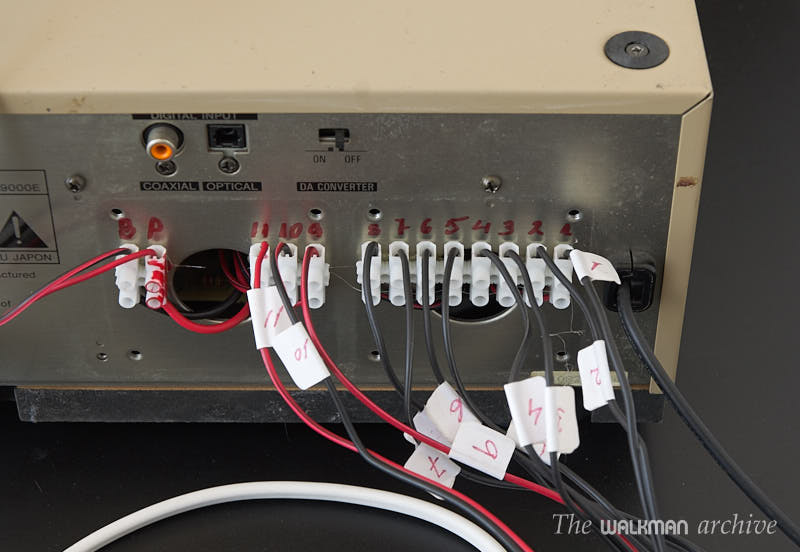 So finally I got my deck that fits very well in its hole: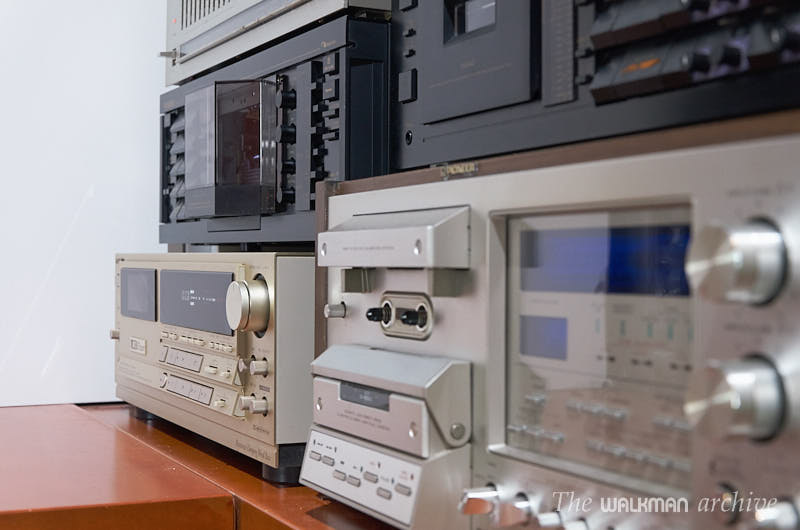 And it performs so good! It's a very responsive deck, and it has some particular features, like the cue/review funtion when pressing REW or FF during play (no AMS). It's also surprising that it 'eats' the tape as soon as you drop a cassette into it, automatically.
The sound is excellent, but the playing response tends to be a bit bright, with a rise of about 2dB from 12kHz and over…
Anyway, I'm not going deep into the sound here as I prefer to leave it to a full review…