Testing the HD800 with a high-end headamp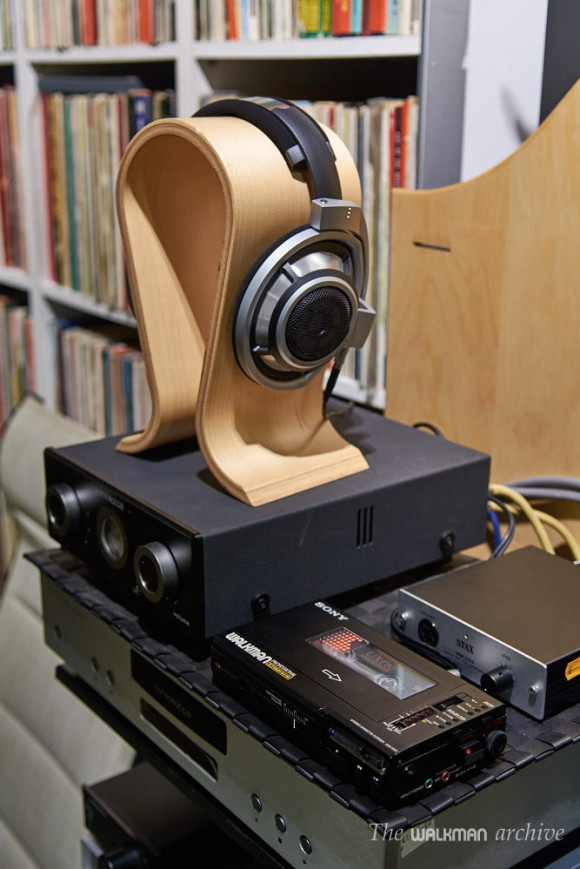 In my never ending search for the perfect headphone, I bought a 2nd-hand ultra high-end Sennheiser HD800, their flagship model. It's not only gorgeous to watch but also sounds incredibly well. This headphone represents the top-of-the-top in the circumaural (I mean: full size headphone) category.
When I first heard this headphone I noticed how detailed and open it sound is. I'll comment in more detail in another post. When I came home with my 'new' HD800 I quickly started to do comparisons with my Grado SR325.
I connected them to my The PanAm valve headphone amplifier and I quickly noticed that the HD800 has a more open sound, more detailed and balanced (the SR325 are a very bright sounding headphone) but with somewhat less 'punch'.
Yes, it's a headphone that sounds almost perfect, but it lacks some 'life' in its sound. The SR325 isn't as well balanced, but it's more enjoyable. I was very surprised and a bit sad…How can a 1.600€ headphone be less enjoyable than a 400€ one? I don't know, but I'm sure it is.
So then I started to research in the web for information about that, and found many comments of other users that complained about the same issue. And it seemed that the problem was not exactly on the headphone but on the amplifier. But… wait, I was using a pretty good (and expensive too) valve headphone; Could it really my PanAm be not up to the task? It seemed so.
I found this article on Headphonia, where they explain that in the HD800 launch event in Singapore, Sennheiser chose the Lehmann Black Cube Linear to show their flagship model. In fact, it seems that that was the amplifier used during the developing of such extraordinary headphone. So it couldn't be bad…
So I started to search for that particular headamp and their prices. It was expensive but not that much as the headphone. Talking with my friend Angel (you can watch his extraordinary music room here) he suggested me to go to Werner music store, which is a high-end store here in Barcelona, to test the amp with my HD800. He told he was a long-time customer and they indeed know him, so he can go with me and help me. And… there we went.
So we arranged a listening session on Werner and I took both my SR325 and the HD800 together with my Super-D6C and one of my best recordings from vinyl on cassette. I met Xavi who is a very nice guy and also liked photography, and he took me to the headphone set-up that they have there for testing:
Here's a closer look: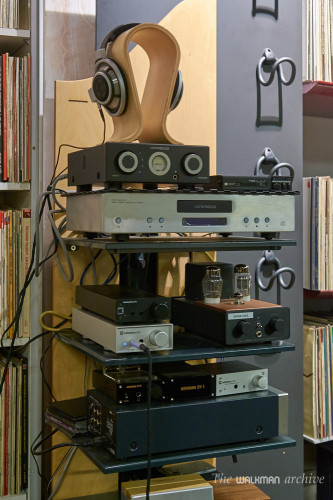 There they have lots of high-end headamps. The Lehmann BCL is this one: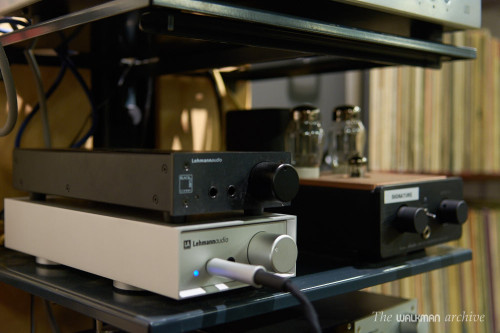 So I took my Super-D6C off my bag and showed it to Xavi, which was very surprised and also curious about its sound quality.
So I started my listening session. I first connected the SR325 as a reference and then the HD800 to the Lehmann, and… voilà! With the Lehmann it gained some punch and 'life' and it became clearly better than with my PanAm. I was pround that the Super-D6C performed admirably with such high-end set-up and the sound was very impressive. Even Xavi, which is accustomed to listen to many thousands of € gear agreed that a cassette player sounded really good.
Not only the HD800 sounds clearly better with the BCL, but also it became a better sounding headphone compared to the SR325. So finally the 'mistery' was solved…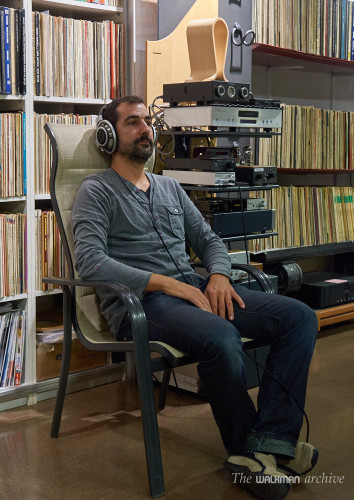 All that means that the HD800 is not only an excellent headphone, but also one of the most exigent in terms of amplification, so if you want one of these, be sure to keep more budget in the pocket for a high-end headamp, particularly the Lehmann BCL, or you may be disappointed. Many people complain about that, but I see this more like a supercar: if you can buy one of these, you may expect also the best tires, gas and maybe an upgrade kit to make it even faster.
So I decided to buy it and after that I only enjoy my HD800 with that amp, because it's a pair of 'gadgets' that may not work well separately, but always together. However, with my other headphones I prefer the warmer sound of  the valves of the PanAm.