High-end headphone meeting at Lleida (Spain)
This weekend I've been invited to join an extraordinary event here in Catalonia (Lleida, actually). The meeting was started by Sisco (aka Stersa at Auriculares-hifi.com forums) and the place was the Llotja at Lleida, which is an impressive building: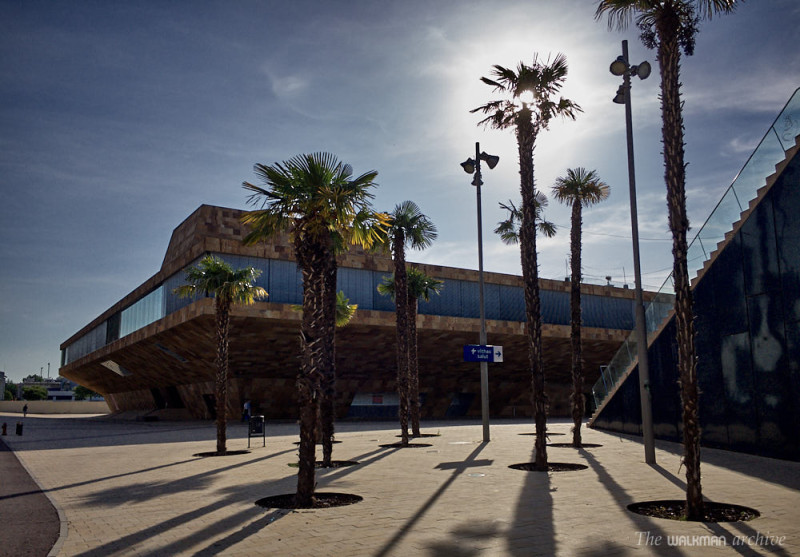 The meeting consist in just sharing our equipment and experiences and enjoy as much as you can. Sisco bought such an amount of high-end and rare headphones that could blow anyone's mind. Seriously. There was about 20 high-end headphones all together. Just like a free bar!
The meeting started as early as 9:00. I arrived a bit early and it was already full of people and gear.
Almost every high-end headphone was there. The list of headphones brought by Sisco was this:
AKG K7XX
AKG K400
AKG K712
AKG K812
AKG K1000 Bass Heavy
AKG K1000 Bass light
AUDEZE LCD3
AUDEZE LCD4 200ohm
BEYERDYNAMIC T1 2g
BEYERDYNAMIC Dt1770 pro
BEYERDYNAMIC REFERENCE EDITION
B&O. H7
DENON D7000
ETHER C Flow
ETHER Flow
FOCAL Elear
FOCAL Utopia
FOSTEX Th900 Mk2
FOSTEX Th610
FOSTEX ThX00
GRADO GH2
GRADO GS2000e
GRADO G.S.E
GRADO TWEEN PULSE
HIFIMAN Edition X
HIFIMAN HE1000 V2
Hifiman HE500 modified
Hifiman HE500
PIONEER Master SE1
SENNHEISER HD800
SENNHEISER HD800S
Sennheiser HD580 mounted on a HD600 headband
Sennheiser HD600
SONY Mdr Z1R
STAX Sigma Pro
STAX SR007 MK1 Early
STAX SR007 Mk2
STAX SR009
STAX SR507
STAX SR207
STAX SR L700
TAKSTAR PRO82
ULTRASONE EDITION 10
ULTRASONE PRO550i
ULTRASONE PRO750
ULTRASONE PRO900
ULTRASONE Signature Studio
ULTRASONE Tribute 7
IEMS AUDIOFLY
As you can see, the list is impressive!
There were also lots of HD800 and HD800S.
I took my SONY TC-D5M as my main player as well as my Super-D6c, Super-DC2 and Super-DD9. But in the end I was using mainly the D5M and just a few time the D6C.
Here you can see the 4000$ FOCAL Utopia ultra-high-end headphone on my SONY D5M, which sound really impressive. Well, the D5M is not at the same level of some of my best decks but frankly it was pretty close, and it withstood fairly well with any headphones I connected to it.
Yes, the Utopia sounds a bit better than my Elear, but the difference isn't worth the price increase at all.
Impressive performance, indeed. The Super-D6C performed admirably, but it was a small step behind the D5M, specially in the treble.
There were impressive amplifiers like this: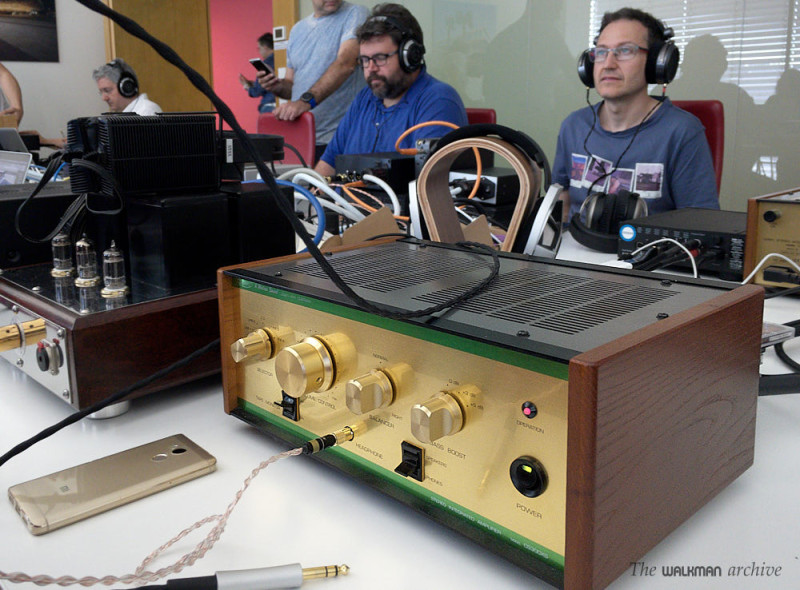 Or these: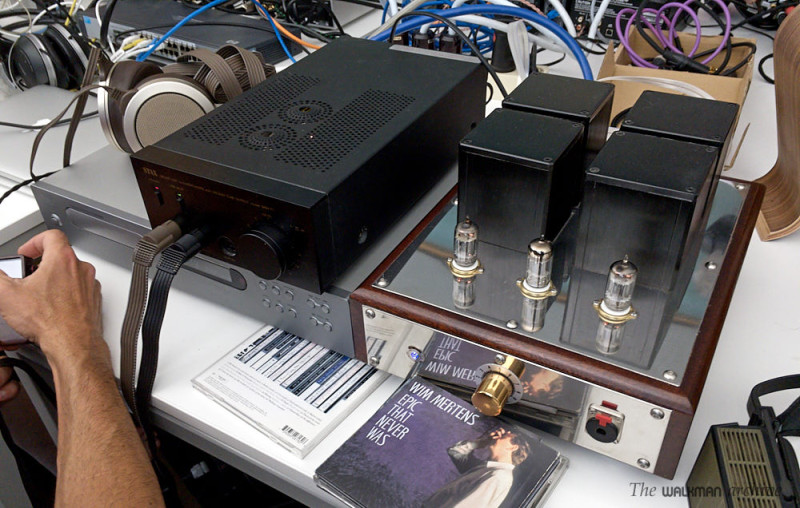 One of the most waited moments was when I connected my D5M to the ultra-high-end 5000$ STAX 009 electrostatic headphones: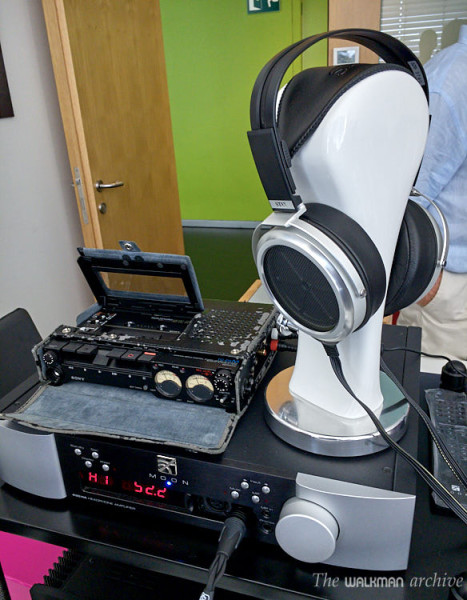 And, not surprisingly, it performed admirably well, with a sound that can stop your heart pumping again…
Some of the people there were curious to hear my cassettes (as you can guess, I was the only one with analog source) and almost all them (there were exceptions, though) were most surprised/seriously impressed about how they sound. They said things like "holy god! is this really a cassette?" or "I can't believe a cassette can sound this good!", and I was sooo happy to hear that.
I took a few tapes that I recorded from vinyl that I carefully cleaned. I used Dolby B because I knew many of them are very picky audiophiles and I didn't want the noise to be clearly heard. As the D5M only has B type, I used that. I don't mind using Dolby B at all, as I find it very transparent ot well used.
One of my favorite headphones was the Hifiman HE-500, followed by the DENON AH-D7000 and the Fostex Massdrop TH-X00. They are over-the-ear, closed headphones but they sound really well. They have a close to each other sound signature and they aren't far from the Focal Elear that I recently got (and love).
I tried the Grado GS-2000 (which I didn't like at all), and the brand new Pioneer Master SE-1 (which didn't like too).
Some of the people that tested my Sennheiser HD540 reference gold liked them a lot, as well as my SONY MDR-CD3000, which was compared to the best of the best.
Surprisingly the Takstar Pro82 did sound pretty well. Not as well as a DENON D7000, but… what if I tell you that they cost 75 euros? Not bad, huh?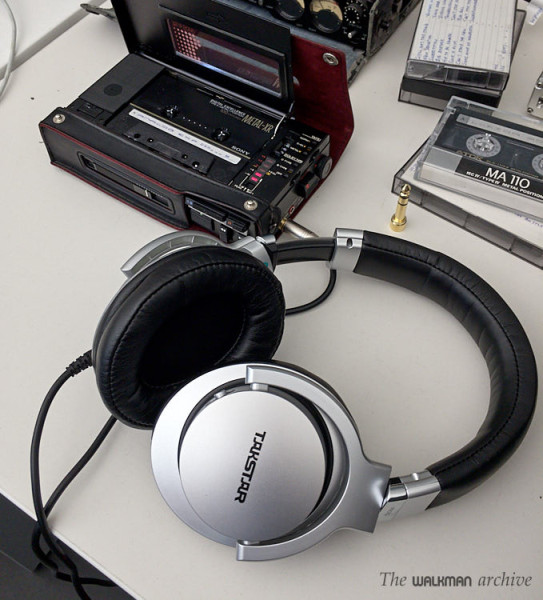 At the end, Sisco gave all of us a box of muffins made by his family as a present, that were soo nice and tasty.
So, all in all and excellent meeting. Something to remember for years, and a good wayt to meet other people with the same hobby. Looking for the next one!

Tags: Catalonia, Meeting, Sennheiser
This entry was posted on Sunday, June 11th, 2017 at 7:55 pm
You can follow any responses to this entry through the RSS 2.0 feed.