New TASCAM deck… (stay calm, not worth your money)

TASCAM has released a new cassette deck; is that a reason to become happy? Well, let's see…
The new CD-A580 is an hybrid model that combines a CD player, and USB player and a single deck. That sounds great: a new deck released in 2017. It's been almost 20 years without any release at all!
Now look at the specs: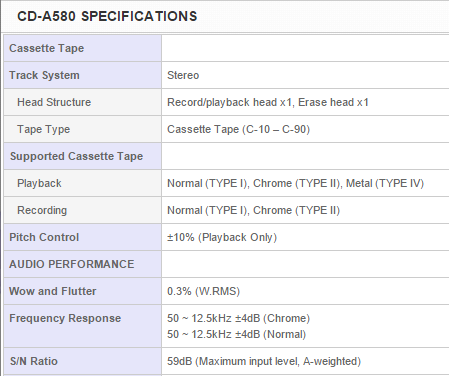 Frequency response 50 – 12.5 kHz??? W&F 0.30%?? Are you kidding me?
To put these data in relative, let's take a look at the WM-B12 walkman by SONY, the most basic model at 1988 (priced around 25€ back then):
Frequency response: 40 – 15 kHz.
Specs talk by themselves. A 30 yr-old basic walkman performs better that a brand new TASCAM deck. Glorious.
Let's see a nice WM-701C: 20-18 kHz and W&F of 0.15%.
Now let's go serious and compare to one of the best decks in the 90s, like a Pioneer CT-93.
Frequency response: 15 – 22 kHz. W&F: 0.022%
Great, so the CT-93 blows out the new A580 by FAR better specs. But, wait, what's even more interesting is this: let's look the previous model released by the very same brand: TEAC AD-RW900. This model looks identical… except that the previous model had autoreverse and the new one does not. And the old one does record on CDs too, while the new one does not.
So, actually, yes: the old one had more features than the new one. And the old one was released under TEAC brand while the new one is a TASCAM (the professional division by TEAC). Are we going forward or backward? Not sure actually…