Tandberg 3014, the norwegian 'Dragon killer'

Some time ago I was offered one of this beast. A friend of mine, who has a wide collection of decks as well as an astounding music room (see it here) had this one and didn't want to keep it anymore. It was in perfect cosmetic condition but it required a though and deep work into it.
I took it to Sergi's lab and he did an excellent work, as always. The mechanism was stuck, with some issues both mechanic and electronic, but Sergi could fix them all. It took more work than usual, and it also required the deck to turn back to the lab two times but in the end it worked fine. Now it's showing all of its pure power and stating that it was born to 'kill the Dragon' (in reference to the Nakamichi Dragon, the world's most acclaimed deck ever).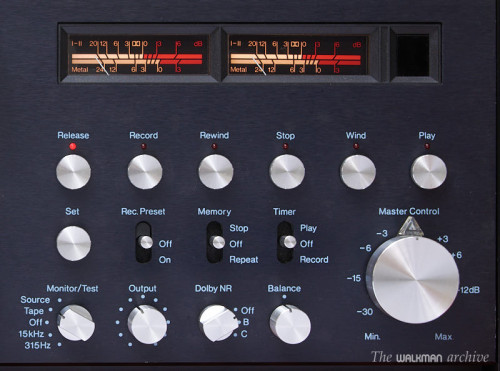 The design is a bit like a big tank. It remembers me something like a sturdy war bunker, with that thick metal front and those thin meter windows.
Although it looks a bit thick and somewhat not very advanced, it hides many advanced functions that are impossible to realize unless you read the manual. But the most eye-catching feature is shared with the Pioneer CT-F1250: the naked cassette.
Here are some photos for your enjoyment: