TASCAM releases a new dual deck
On may 22th TASCAM has released the new 202MkVII, a dual deck with simultaneous recording capabilities. If you've been reading my blog, you'll remember the TASCAM CD-A580 some time ago… that didn't impressed me much actually.
The new deck is a dual deck, but… who does need it these days?. I guess people of small music labels that are releasing new music maybe find it interesting to make few copies easily. It has an USB input (and an internal DAC) so it can record directly streamed music from your device to a tape. It's interesting that it has a 'noise reduction' system that it's not Dolby, but it has compatibility with Dolby B. I guess maybe it's not possible to license it anymore because Dolby (or other makers) aren't actually producing Dolby chips, but seems that someone did something 'compatible' with it.
The VU meter's resolution is not high but at least  it has enough information both at Dolby and zero level (that's something!) so careful recording can be made in this regards. Interesting that they have chosen the DIN scale for Dolby. C'mon! Still bothering with that? Why not making Dolby and zero the same and end the eternal problem of lack of compatibility between decks?
However, still no bias setting or any calibration capabilities. Not even a rec balance.
So, how this new deck performs in comparison with the A580? Well, let's remember the specs of the CD-A580: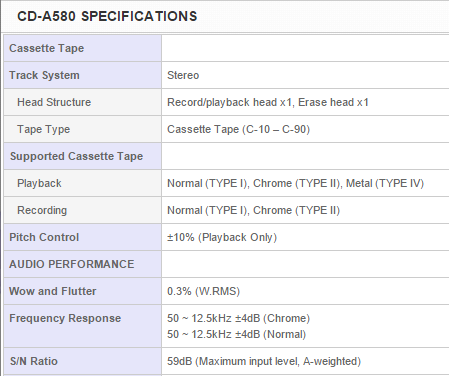 And now let's see the specs of the new one:

Sooo… well. Yes, we can say the specs are better… only a bit better, going from 50-12.500 to 30-13.000. Th e W&F goes slightly down from 0.3 to 0.25% WRMS. We are getting closer to a mid budget SONY walkman from the 80s…
So, all in all I wouldn't buy it but I admit it's a small step ahead. Probably the makers are testing the waters to see if people buy it, and I bet many small labels will buy it. And with that Tascam will see if the waters is ready for better products, so also other makers will maybe see some opportunities. And… who knows?