Recording a '86 TDK SA-X from vinyl [VIDEO]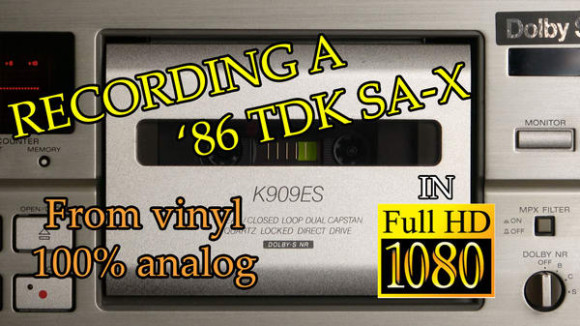 I've created a new video for my channel. Unfortunately, Youtube has blocked it due to the new 13th EU rule, so I cannot publish it… there.
I was encouraged to make this video after seeing videos from @Oswaldo Martinez and others.
In this video I show you how I record a vinyl on an excellent tape. It's not a technical but a contemplative video. I hope you like it.
Please choose the version that suits your needs:
Here is the HD version, for viewing in tablets and laptops up to 15″:
And here's the big size version in glorious Full HD 1080p if you wish to watch it in full screen in a 1080p or 4K screen:
Gear used in this video:
Turntable: Technics SL1200 Limited
Cartridge: Audio Technica AT150Sa
Phono preamp: ANT Audio Kora 3T Limited Edition
Preamp: Mitsubishi DA-P20
Deck: SONY TC-K909ES
Visualization: Nixyelizer
Headphone amplifier: ALO The PanAm
Headphone: Sennheiser HD650
Although a '86 SA-X (one of my favorite cassettes) accepts levels up to +3, I measured the total distortion before starting to record and found out that I could not go over 0VU because it already reaches 3% distortion (which is the maximum allowed), so I kept the levels at 0.
The digitized sound may not be perfect. I switched to a new desktop PC recently and had to forget my beloved X-Fi Elite (because it's a PCI card and those aren't compatible anymore), so I had to use the embedded Realtek sound card.