A BRIEF DESCRIPTION
The Boodo Khan is one of the most famous models of the whole walkman range. It was also one of the firsts models to include bass amplification , and the first one to have a dynamic one (not static, like an EQ).
SONY developed the DOL (Dynamic Optimun Loudness) system and integrated it on some of their top-level HI-FI products on 1986 (amplifiers and equalizers) and decided to include for the first time on a walkman, so they can compensate the typical poor bass response on portable players. The DOL system was the first attempt and after it many came, like the famous Mega Bass, and almost every brand on earth copied the idea under different names: DSL, Super Bass, Extra Bass, Bass boost...

This system amplifies not only the bass but also the highs, but in an dynamic way, so the intensity is maximum at low volume and weak at high output. It powers the bass (between 20-100 Hz) up to 9 dB and up to 3 dB the highs (from 10 kHz and up).

The mechanics are derived directly from the DDII and the DC2, but externally it has a closer look to the DD30.

The "Boodo Khan" (formerly, "Budokan") name refers to one of the most famous indoor arena of Tokyo (see it on Google Maps). This place is commonly used for martial arts competition, but sometimes it's also used as a concert hall. Because of its excellent acoustics, many important artists and groups has performed concerts or recordings there, like Bob Dylan, Brian Adams, Pearl Jam, Avril Lavigne, Quincy Jones, Deep Purple, Blur... and so it gained many importance as a music hall.
Because of that, Sony decided to give this name to the top player on that year, and to improve it, they accompanied the player with a pair of good closed headphones. (seen at the Wikipedia)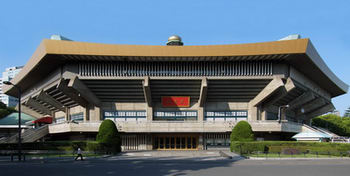 The Budokhan indoor arena, at Tokio. (from Wikipedia)
The DD100 came with a big headphones supplied. They really are the SONY DR-S3, but in this case they were renamed to DR-S100 and got the Boodo Khan logo stamped. Contrary to the general trend, the big, closed headphones supplied targeted this legendary player towards the audiophile, not the teen or casual listener.
CONTEXT
At the time when the DD100 was released, only Panasonic had one model with a similar feature, called "Ultra-Phonic", but SONY went far with its DD100, and the DD100 simply started a new cathegory on portable cassette players, so we can say that there was simply no alternative to the customer.

The Panasonic RX-SA80 was the world's first walkman to have a bass amplification system, but it was not dynamic but fixed. I mean: like a preadjusted EQ, that always equalizes the same way.
| | | |
| --- | --- | --- |
| | | |
| Panasonic RX-SA80, the world's first walkman with bass enhancement. | Detail of the green switch "Ultra Phonic". | The RX-SA80 and the Boodo Khan. |
Dynamic bass amplification works by amplifying much more at low volume than at higher levels, because of the way the human ear works. It's an automatic variable EQ: the lower the volume, the stronger EQ. SONY's DOL and AIWA's DSL dymanic bass systems were also implemented in HI-FI systems, but no portable player had yet integrated. Until then.
However, AIWA was preparing a groundbreaking player, the PX101, which also had a bass amplification (DSL) and many sophisticated features, that was released a few time after the DD100.
NOTE: If you have any useful info about this model, you can collaborate with us if you want to. Please send us an email and share your info. We will update the page with it.