Mitsubishi DA-P20, my new preamp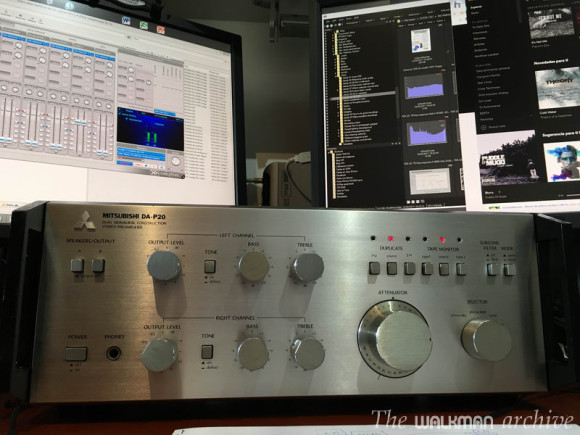 Recently I have been given (yes, for free!) this wonderful device. I have never had a preamp and I confess I didn't even knew what they were for. Once I knew they are aimed to 'correct' any non-linearity of your turntable setup or deck, to send the signal 'corrected' to an amplifier or to another deck I thought I could make good use of it.
This beauty is fully made of metal, with a level of quality that is hardly found in nowadays HI-FI devices. The knobs are just delicious to use. With many smooth but precise 'clicks' it's just pure joy. The big volume knob is just glorious. Even more clicks (one per number position) and very very smooth to rotate.
It has two line inputs (tuner and aux), two embedded phono preamps (MC and MM) and two in & out deck connections. It has level, bass and treble separate controls for left and right channel and it's completely built on dual mono paths, so channel separation is basically perfect.
Using a precision gauge, a protractor (that you can download and print from HIFI Engine) and a very special vinyl from Analogue productions, The ultimate test LP, I could precisely calibrate the cartridge and then measure the frequency response.
I first noticed an unbalance of 0.5 dB that I already suspected based on what I hear. This confirmed it, so I used the output level controls to correct that.
Then I used the tone controls to linearize a very slight lack of bass and a light excess of treble. The result was not absolutely perfect, but very close to

So in the end I could make my vinyl source sound even better and easier to record that on tape, as now I don't have to use my EQ to correct non linearities, but to 'master' the sound to my taste. But that's another story…
Tags: Mitsubishi, Preamplifier
This entry was posted on Sunday, April 16th, 2017 at 9:21 am
You can follow any responses to this entry through the RSS 2.0 feed.