ELBOW, the XXI cassette walkman? [UPDATED]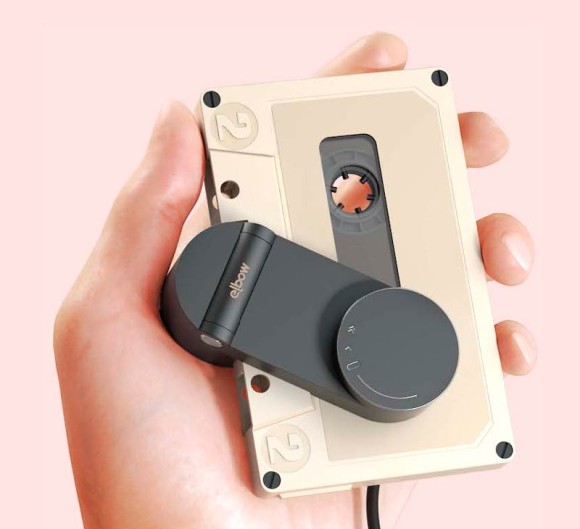 [UPDATED] The project has been cancelled and closed on 23th january. In their Facebook page they explained that:
Dear ELBOW followers, we have two announcements to make today.
1. WE'RE DISCONTINUING THE ELBOW PROJECT. The product is not coming to market, ever. Due to many reasons – financial, technical, personal – this is our final decision.
2. WE'RE NOT DONE YET. Something new is brewing on the drawing table. It is, however, still long ways from a presentable entity. If all goes well, an announcement shall be made later this year.
We'd like to thank everyone again for all the support and criticism, which was equally helpful. We hope to continue this public conversation in the future, but for now – SEE YOU NEXT TIME.
Sincerely,
BrainMonk organisation
NEWS published originally on august, 2017:
Recently it has been published in dozens of websites an information of a new concept of a cassette walkman: the ELBOW. A concept that is revolutionary as it has nothing in common with any previous walkman from the 80s or 90s.
At first sight it looks nice and even cool, isn't it? It is, although personally I don't like the design as much as a good 80s walkman, like a WM-DD30, an HS-G08 or a Toshiba KT-V500. Anyway, it's a very nice concept.
But as stated in this thread of our forums, the concept has an important flaw: it lacks a capstan and a roller. The tape has to move at an exact speed of 4.76cm/s or 1 7/8 ips to match the standard. How do cassette players reach that exact speed from start to end? With a mechanic rubber roll (roller), which is pressed against a metal axis (capstan).
How will the ELBOW control the speed? Well, they say they will do with an optical sensor, but I doubt such a sensor can really control the speed accurately as the tape is totally neat and uniform, with no visible 'grain' or texture. So… will it really work without a capstan?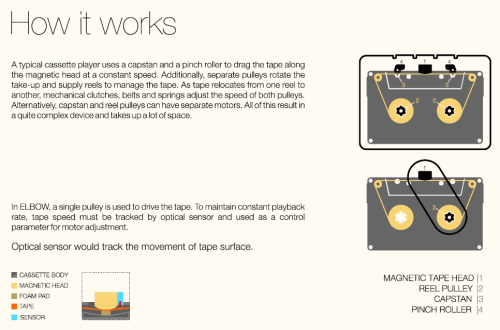 Maybe they know about a special -or new- optical sensor that is really capable of that, but frankly I can't believe it… until I see it.
I'd love to see it finally done successfully and I'd be buying it just for testing, but I cannot trust that this concept will ever be real, unless it incorporates a capstan.
Anyway… good luck with that!
This entry was posted on Saturday, June 9th, 2018 at 6:56 pm
You can follow any responses to this entry through the RSS 2.0 feed.