SOLD -> SONY Boodo Khan Boxed. Serviced & working! <- SOLD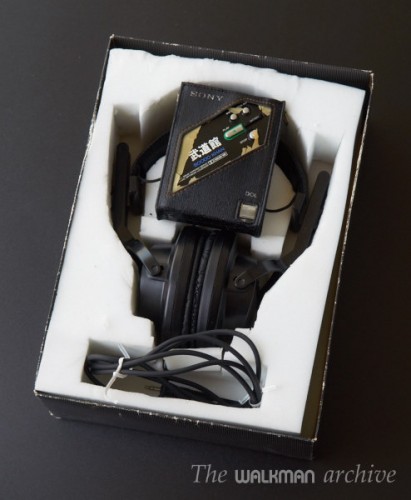 DESCRIPTION:
This is retro SONY WM-DD100 aka Boodo Khan Walkman. This walkman is very special, one of the most legendary and desired walkmans of all times. It was the very first walkman targeted to audiophiles and also the first one to feature an dynamic bass & treble amplification (after it, many systems appeared, inspired in that idea: megabass, SuperBass, DSL…).
It has the following features:
– Disc drive system (DD), which ensures high stability speed of the tape and, thus, very low wow and flutter).
– DOL system (Dynamic Optimun Loudness)
– Dolby B Noise reduction
– Normal-CrO2/Metal selector
– Included audiophile headphones
– Metal body
– Made in Japan
It's a truly special model for collectors, almost impossible to find in this condition.
You really can't imagine how powerful, dynamic and clean it sounds if you never heard one by yourself. Not only that, modern MP3 players (even the most popular and better ones) cannot compete with it. It is only surpassed by it's background hiss (as you can imagine, Dolby B cannot compete with a good digital file), but not by it's dynamic range, ultra powerful bass and crisp treble. It can also drive high-ohm audiophile headphones.
Made no mistakes: this is not a 'musical toy', like many modern portable players. This is a very high quality product targeted to audiophiles. If you don't have a very good deck in full working order, you won't enjoy it's full musicality. Forget to use cheap or type I tapes, also. This walkman needs good chrome tapes, like TDK SA. It also has the Dolby B circuitry fine tuned, so with a good deck, you won't notice the typical cut in high freqs, but only a very few cut.
Also, the original headphones (which are in full working order) are the ones  that will let you enjoy a plain response, because they were taken in count in the design process of the walkman, so they were both designed to use together. Modern headphones can be excellent (even better, though), but as they have better bass response than the original ones, when the DOL is activated, the bass is ground-breaking. You will be blowed-out for sure!
Please check my article about it in the 'gallery' section.
STATUS: FULL WORKING:
It suffered from the common 'internal cracked center gear' that makes the usual 'clack clack' sound while playing. But it has been professionally serviced and now it has the center gear repaired and it sound gorgeus.
The internal plastic was lost by the original owner and he made a copy of it with white foam. Though it is not the same, it looks very similar and does the work.
Cosmetically the unit is in excellent condition, except a very few and very small scratches in one corner. For details, see the photos.
No black marker has been used (to hide scratches) before taking photos.

INCLUDES:
What you see in the pictures: the original box with a hand-made foam.
PRICE & PAYMENT:
550€ / 765$
Bank transfer or PayPal. You can also pay it here if you come to get it).
SHIPPING:
Cost depends on the country (check price in table below). You can also hand-pick for buyers near Barcelona.
INTERNATIONAL SHIPPING

| | | |
| --- | --- | --- |
|   | Up to 1Kg | Up to 2Kg |
| Zone | Price | Price |
| 1 | 24$ / 18€ | 35$ / 26€ |
| 2 | 35$ / 26€ | 54$ / 41€ |
|   |   |   |
|   |   |   |
|   |   |   |

 

More than 2 Kg

Zone

Base price

Every Kg

A

33$ / 25€

4$ / 3€

B

30$ / 23€

4.2$ / 3,2€

C

21$ / 16€

6.5$ / 4,9€

D

13$ / 17€

6.5$ / 4,9€

E

20$€ / 15€

6.5$ / 4,9€
Zone 1: Europe, including Greenland.
Zone 2: All other countries.
Zone A – Germany, Austria, Belgium, Denmark, Slovakia, Slovenia, Finland, France, Greece, Ireland, Italy, Lithuania, Luxembourg, Netherlands, Portugal, United Kingdom, Sweden, Gibraltar, Switzerland, Norway and Iceland.
Zone B – Rest of Europe not included in Zone A. Azores, Madeira, Monaco, Isle of Man and Morocco.
Zone C – Africa except Morocco (countries that support this service.)
Zone D – Asia and Pacific (countries that support this service.)
Zone E – America (countries that support this service.)
NOTE: 4$/3€ will be added to the shipping cost, for packing costs.
Still interested? Then, drop me a line through the contact form.
One Response